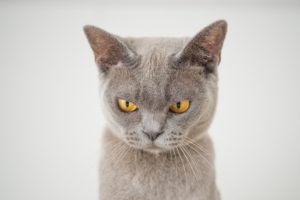 Cats are often seen as being distant, moody, and aloof. These stereotypes are just as accurate as any other: there might be a small grain of truth somewhere, but it's just not accurate most of the time. If your cat is acting uncharacteristically mad, here are some things that could be causing the change in behavior.
Your Cat is Stressed
A lot of humans often become quite cross and downright difficult to be around when they're stressed, and sometimes cats react similarly. Since cats don't speak English, they express their dissatisfaction in other ways. A stressed-out cat may shred a piece of furniture, for example. Some cats will even ignore their litter box when they are super stressed and relieve themselves wherever they please. If you think your cat may be stressed, do your best to find the source of their agitation. Stress isn't healthy for them, especially long-term.
Physical Pain or Emotional Distress
No one wants to feel pain. For some of us, humans and felines alike, feeling pain or strong negative emotions can make us lash out. It is important that your cat has a place they feel safe. It is best if it's a place as far from other animals as possible. They will have a place to hide, groom themselves, and sleep away from other annoying animals. A cat tree can help immensely with this, and many felines climb and perch to get a sense of privacy and safety.
Social Interactions
It is also crucial that your cat gets plenty of opportunities to socialize with other animals. It would help if you introduced your cat to as many other dogs and cats as you can, as early as you can.
We Would Love the Opportunity to Care for Your Furry Friends!
Alexander Animal Hospital is a full-service animal hospital located in Severna Park, Maryland, serving the Severna Park, Pasadena, and Arnold Areas. Our goal is educating clients on the needs of their pets and understanding the importance of individualized veterinary care in order to strengthen the human-animal bond between owners and their pets.
We understand you have a choice when deciding on the care for your pets, and we strive to provide you with unparalleled services including wellness exams, vaccines, lost pet microchip ID, dental care, surgical services, digital radiography, and in-hospital laboratory services and diagnostics. Other highlights of Alexander Animal Hospital are the separate cat and dog waiting and exam rooms, as well as after-hours on-call emergency services.
Please take a look around our website and then give us a call at 410-777-8678 to set up an appointment.We're social! Follow us on Facebook, Twitter, and Pinterest for all the latest updates!