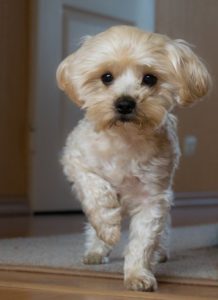 Dogs and apartments: you may not think these two would go together very well, but with some training and lots of walks, you and your pooch can be quite happy in an apartment together! Here are some helpful tips for living in an apartment with your dog.
Big Energy in a Small Space
Like you, your dog needs lots of exercise. In the absence of a fenced yard, you will need to figure out how to make sure he or she gets the exercise they need. Did you know that there are companies that make exercise equipment for dogs? Many pet owners with high-energy breeds will get a doggy treadmill to help get some of that energy out. Getting them outside as frequently as possible will help too. The fresh air will do you both a lot of good!
Teach Them to Be a Good Neighbor
If you live in an apartment, you know that noisy neighbors can be a real problem, from the people upstairs who stomp around all the time to the people across the hall with the obnoxiously loud children. Don't let your dog become just another obnoxious neighbor. Most dogs bark, that is how they communicate after all. However, excessive barking is a huge no-no. Training them to bark as little as possible can go a long way toward "good neighbor" status. Some owners even teach their dogs to use an "inside voice"! Your pup probably loves treats, almost as much as they love you! Use this to your advantage. Treats and lots of praise will reinforce good behaviors and reprimand or ignore negative ones.
Potty Breaks
When you're living in an apartment, you probably don't have a yard. If you're in a suburban area and in a ground floor unit, there may be some grass but for city areas and most other apartments, there isn't really a lot of green space for puppy potty breaks. Fortunately, there are many companies that make patches of artificial "grass" for your pup to do their business on. You can even get patches of real grass from some places!
We Would Love the Opportunity to Care for Your Furry Friends!
Alexander Animal Hospital is a full-service animal hospital located in Severna Park, Maryland, serving the Severna Park, Pasadena, and Arnold Areas. Our goal is educating clients on the needs of their pets and understanding the importance of individualized veterinary care in order to strengthen the human-animal bond between owners and their pets.
We understand you have a choice when deciding on the care for your pets, and we strive to provide you with unparalleled services including wellness exams, vaccines, lost pet microchip ID, dental care, surgical services, digital radiography, and in-hospital laboratory services and diagnostics. Other highlights of Alexander Animal Hospital are the separate cat and dog waiting and exam rooms, as well as after hours on-call emergency services.
Please take a look around our website and then give us a call at 410-777-8678 to set up an appointment.
We're social! Follow us on Facebook, Twitter, and Pinterest for all the latest updates!