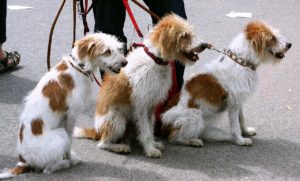 Are you thinking of going out of town for a few days? If so, you'll probably need a pet sitter. Sometimes it's as simple as asking friends or family, but other times this won't work – either it's last-minute or someone is sick. Follow these tips to find the perfect pet sitter!
Ways to Find Someone
The easiest way to find a pet sitter is to ask someone you know and trust. In most cases, this will be a friend or family member either in your household or someone who lives close by. You might also ask a neighbor to do it if no one else is available. Your co-workers present another good option. You could and should also ask your vet. They might also offer boarding for your pets while you are gone, but this is not universal. Ask and find out!
Meeting Your Pet Sitter
The next step is to meet your pet sitter. This is where a meet-and-greet comes into play. With the pandemic ongoing, don't forget to wear a mask and possibly gloves. This will give your pet and your sitter a chance to meet, especially if you have a skittish cat or a dog who isn't fond of strangers.
Items to Pack
You want to be sure that you make the sitter's job as easy as possible. That's why you should leave a number of items behind before you go. For example, a goody bag of treats and toys definitely works. Then make a list of likes, dislikes, and quirks. Leave a copy of your pet's medical history, or notes about allergies or any conditions that may have changed recently, especially if you have hired a new sitter. Finally, leave written consent for emergency or other types of treatments if the need should arise.     
 We Would Love the Opportunity to Care for Your Furry Friends!
Alexander Animal Hospital is a full-service animal hospital located in Severna Park, Maryland, serving the Severna Park, Pasadena, and Arnold Areas. Our goal is educating clients on the needs of their pets and understanding the importance of individualized veterinary care in order to strengthen the human-animal bond between owners and their pets.
We understand you have a choice when deciding on the care for your pets, and we strive to provide you with unparalleled services including wellness exams, vaccines, lost pet microchip ID, dental care, surgical services, digital radiography, and in-hospital laboratory services and diagnostics. Other highlights of Alexander Animal Hospital are the separate cat and dog waiting and exam rooms, as well as after-hours on-call emergency services.
Please take a look around our website and then give us a call at 410-777-8678 to set up an appointment.
We're social! Follow us on Facebook, Twitter, and Pinterest for all the latest updates!