As many cat owners know from experience, a cat's feeding routine can be quite a production. From meowing right on time to rubbing against your legs to the pleading stares near their food bowls, cats certainly have a way of making you believe they're just desperate for the next meal. Unfortunately, some cats will even get so worked up at mealtimes that they eat far too quickly and wind up with an upset stomach or even vomiting on the floor. This is no good, as it leaves a lot of food undigested and can be unhealthy for your furry friend. If your cat is eating too fast, here are some ways to help them slow down.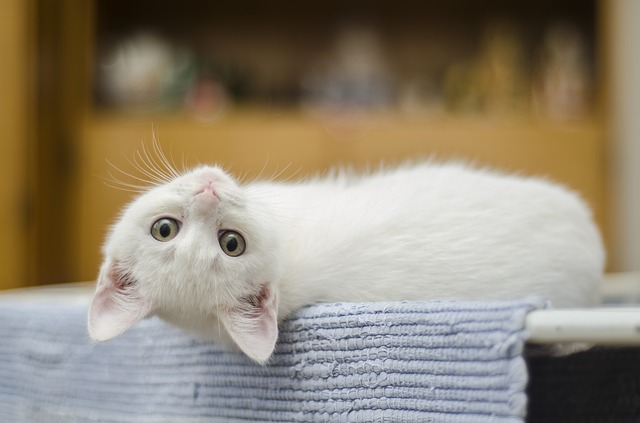 Switching Their Food
If your cat is always vomiting their dry food, they may do better on a wet food. When a cat eats too quickly, they can eat too much, since dry food will absorb water and expand in the digestive system. Wet food won't expand as much, so your cat is less likely to overeat it. If your cat is always throwing up treats, it may be a good idea to switch their treats to ones with a different main ingredient. If your cat is vomiting no matter the food, take them in to the vet. They may have a food allergy or other digestive issue.
Add an Obstacle
There are plenty of tricks you can use to keep your cat from eating too quickly. One of the most popular is to add a non-edible obstacle to their food. Adding an object such as a ping pong ball or golf ball to their food bowl will require them to slow down and eat around the object.
Unconventional Bowls
Sometimes, spreading the food out over a larger surface area will encourage your cat to eat more slowly. Try spreading the normal amount of dry food across the surface of a 9 x 13 inch baking pan instead of their traditional food bowl. Your cat will have to move around the baking tray to eat all the kibble and will be less likely to overeat.
We Would Love the Opportunity to Care for Your Furry Friends!
Alexander Animal Hospital is a full-service animal hospital located in Severna Park, Maryland, serving the Severna Park, Pasadena, and Arnold Areas. Our goal is educating clients on the needs of their pets and understanding the importance of individualized veterinary care in order to strengthen the human-animal bond between owners and their pets.
We understand you have a choice when deciding on the care for your pets, and we strive to provide you with unparalleled services including wellness exams, vaccines, lost pet microchip ID, dental care, surgical services, digital radiography, and in-hospital laboratory services and diagnostics. Other highlights of Alexander Animal Hospital are the separate cat and dog waiting and exam rooms, as well as after-hours on-call emergency services.
Please take a look around our website and then give us a call at 410-777-8678 to set up an appointment.
We're social! Follow us on Facebook, Twitter, and Pinterest for all the latest updates!