As a cat owner, you probably pay a lot of attention to the health and wellbeing of your cat. You make sure that they are always fed, are comfortable, and have toys to keep them entertained. Although they can't talk to you, cats have their own ways of letting you know what they need. Have you ever looked at the way cats wag and move their tails? There could be messages about their mood if you pay attention to their tails as well.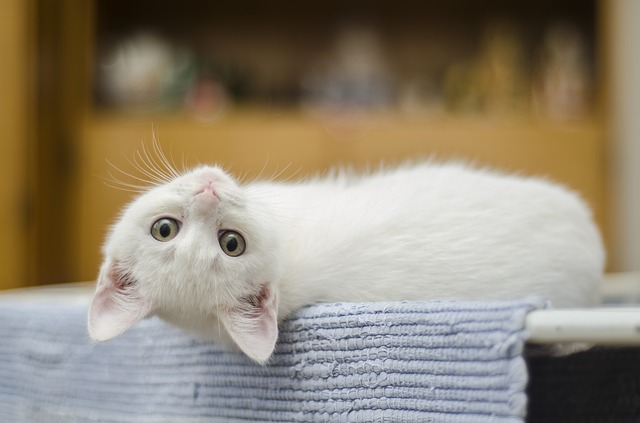 Held High
If you see your cat holding their tail in a high position, up in the air, it could mean that they are feeling happy, comfortable, and confident. You'll most likely notice this when they are at home and in their own space. When you see a cat's tail in this position, you can also feel confident that they will be friendly and more likely to want to socialize with family members and even your guests. You should then also feel comfortable knowing that you've provided a cozy and enjoyable environment.
Curved Position
Take a high position and add a curve. If you see your cat's tail in a similar position, it could mean that it's time to play. When your cat is feeling frisky and full of energy, you'll see their tail curved and possibly swaying back and forth. Bring out the toys and have some fun.
Held Down
A cat that is holding their tail toward the floor is showing a sign that they could be in an aggressive or serious mood. If they are feeling threatened or nervous, you'll see their tail in this position. When the tail is tucked completely between the legs, the mood is scared or skittish.
We Would Love the Opportunity to Care for Your Furry Friends!
Alexander Animal Hospital is a full-service animal hospital located in Severna Park, Maryland, serving the Severna Park, Pasadena, and Arnold Areas. Our goal is educating clients on the needs of their pets and understanding the importance of individualized veterinary care in order to strengthen the human-animal bond between owners and their pets.
We understand you have a choice when deciding on the care for your pets, and we strive to provide you with unparalleled services including wellness exams, vaccines, lost pet microchip ID, dental care, surgical services, digital radiography, and in-hospital laboratory services and diagnostics. Other highlights of Alexander Animal Hospital are the separate cat and dog waiting and exam rooms, as well as after-hours on-call emergency services.
Please take a look around our website and then give us a call at 410-777-8678 to set up an appointment.
We're social! Follow us on Facebook, Twitter, and Pinterest for all the latest updates!