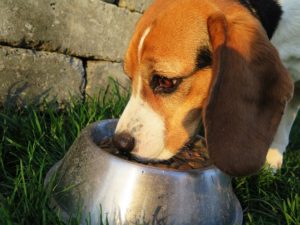 Does your pooch gobble down their food too fast? Eating too quickly is a fairly common problem among dogs, and it can lead to some severe issues. Eating too fast can lead to stomach and digestive pain as well as being a choking hazard. There are a few reasons why your pup may be eating too quickly.
Health Concerns
There are a few different health issues that can lead to eating too quickly. If your dog has intestinal parasites, for instance, they may have an increased appetite due to the decreased nutrition as well as having discomfort that may be helped with a full stomach. If parasites are the problem, your vet can give you easy treatments including over the counter dewormers once the pests have been identified. Other conditions like Cushing's Disease or diabetes mellitus can also both cause dogs to overeat.
Nutritionally Lacking Food
Not all dog food is created equal. Consumers are more aware than ever of what is in their pets food, after years of recall scares from major pet food companies, most of us now know that our dogs need to eat food from responsible, carefully monitored sources. Even with this knowledge, it can be difficult to tell if the food your dog is eating is giving them proper nutrition. If they are not getting the right nutrition for their age and size, they will likely still be hungry after eating causing them to eat faster when fed.
Competition
Even as a solo pet, your dog's history may affect how they eat. If they faced competition from other animals or littermates, or if they went hungry for portions of their life – the instinct of needing to eat quickly may never leave. While there are steps you can take to help break them of the need to eat too fast, you may find that its a habit they can't shake. Fortunately, there are a few tricks you can try.
Slowing Your Dog's Eating
Once you've ruled out health issues and have found the perfect food, there are a few different methods to help your dog eat slower. Start by ensuring that they eat away from other animals or people if they know there isn't competition they can begin to relax. You can also try feeding in smaller portions more frequently throughout the day. Not only does this help them eat less at once, but it shows them that they won't go hungry throughout the day helping to relieve stress from traumatic history. Last but not least, options like puzzle feeders are great for dogs of all types. Not only do puzzle feeders slow them down, but it makes eating its own game giving them a cognitive challenge that helps keep them entertained and engaged.
We Would Love the Opportunity to Care for Your Furry Friends!
Alexander Animal Hospital is a full-service animal hospital located in Severna Park, Maryland, serving the Severna Park, Pasadena, and Arnold Areas. Our goal is educating clients on the needs of their pets and understanding the importance of individualized veterinary care in order to strengthen the human-animal bond between owners and their pets.
We understand you have a choice when deciding on the care for your pets, and we strive to provide you with unparalleled services including wellness exams, vaccines, lost pet microchip ID, dental care, surgical services, digital radiography, and in-hospital laboratory services and diagnostics. Other highlights of Alexander Animal Hospital are the separate cat and dog waiting and exam rooms, as well as after-hours on-call emergency services.
Please take a look around our website and then give us a call at 410-777-8678 to set up an appointment.
We're social! Follow us on Facebook, Twitter, and Pinterest for all the latest updates!