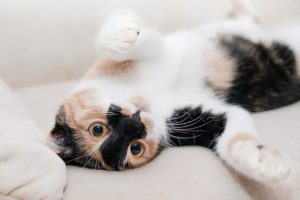 As a pet owner, you're probably familiar with the often mesmerizing reaction that many cats have to catnip. About half of cats love the stuff, while others may not be enthused by it. So what is it about this plant that some cats can't get enough of? The catnip herb contains nepetalactone, which attracts and affects cats. The reaction many cats have to this substance is referred to as a sort of "high," causing their pupils to dilate, often making them drool or become very playful. But what is happening to your cat when they smell and eat this herb?
Nepetalactone
Nepetalactone is an interesting substance that affects about 50% of cats. When sniffed, it acts as a stimulant, often causing cats to become very playful, rolling over on the ground and generally being hyperactive. But when eaten, catnip acts as a sedative, sometimes causing cats to drool, purr, or fall asleep. The nepetalactone is released from catnip by bruising the plant, so cats will scratch, rub, or bite the leaves and stems to release the substance.
Varying Behaviors
If your cat reacts to catnip, they may behave in a number of ways. There are a wide array of behaviors that can be induced by nepetalactone, so your cat may behave differently than other cats you have given catnip before. Some cats will run throughout their home, roll around on the ground, meow more (or less) than normal, or become very playful with their toys. Most of the time, the effects of catnip wear off after about 10 minutes.
Habituation
If cats are given nepetalactone often and consistently, they may become less sensitive to it. It's recommended to limit the use of catnip with your furry friends to about once every two to three weeks in order to prevent habituation. It should also be noted that very young cats may not appear sensitive to catnip. This sensitivity tends to appear when a cat is several months old, so if your kitten doesn't react to catnip, they might become sensitive when they are older!
We Would Love the Opportunity to Care for Your Furry Friends!
Alexander Animal Hospital is a full-service animal hospital located in Severna Park, Maryland, serving the Severna Park, Pasadena, and Arnold Areas. Our goal is educating clients on the needs of their pets and understanding the importance of individualized veterinary care in order to strengthen the human-animal bond between owners and their pets.
We understand you have a choice when deciding on the care for your pets, and we strive to provide you with unparalleled services including wellness exams, vaccines, lost pet microchip ID, dental care, surgical services, digital radiography, and in-hospital laboratory services and diagnostics. Other highlights of Alexander Animal Hospital are the separate cat and dog waiting and exam rooms, as well as after-hours on-call emergency services.
Please take a look around our website and then give us a call at 410-777-8678 to set up an appointment.
We're social! Follow us on Facebook, Twitter, and Pinterest for all the latest updates!