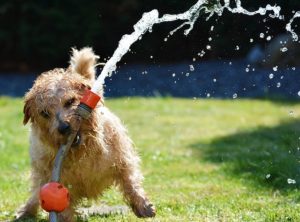 Summer is just around the corner. With the days getting sunnier and the temperature rising, it's important to adjust your dog's routine to keep them safe and cool through the season. Here are some simple steps you can take to keep your dog cool and healthy all summer long.
Watch the Humidity
The combination of heat and high humidity can make it harder for dogs to cool off naturally by panting. If your dog is overheated, it can mean major health issues. Check your dog's temperature if you're worried about overheating–a dog's temperature should never be higher than 104 degrees. You'll also want to keep in mind that dogs with darker coats will absorb more heat than dogs with lighter coats!
Always Provide Shade
Whenever your dog is outside, there should be a shady spot for them to sit and cool off. Trees, covered patios, and tarps can all provide cool shade to a dog during a hot summer day. Dog houses can get much too hot out in the sun, so make sure your dog has a cool place with good airflow to relax and enjoy a sunny day.
Make Sure They're Drinking Water
Dogs can get dehydrated easily in the hot temperatures of summer. Make sure you always provide water that can help them stay cool and well-hydrated. If you plan to go on any hikes or long walks, bring a bottle of frozen water for a drink on the way. If you're spending a day out on the lawn with your dog, you can always put some frozen beef or chicken broth into their outdoor water bowl to keep their water cool and give them a special treat.
Never Leave Your Dog in the Car
No matter how short a trip, never, ever leave your dog in a parked car. The beating sun and high temperatures can quickly make the car a dangerous environment for your furry friend. Not only is it uncomfortable, but it can cause severe harm to your dog and become unlivable within 10 minutes.
We Would Love the Opportunity to Care for Your Furry Friends!
Alexander Animal Hospital is a full-service animal hospital located in Severna Park, Maryland, serving the Severna Park, Pasadena, and Arnold Areas. Our goal is educating clients on the needs of their pets and understanding the importance of individualized veterinary care in order to strengthen the human-animal bond between owners and their pets.
We understand you have a choice when deciding on the care for your pets, and we strive to provide you with unparalleled services including wellness exams, vaccines, lost pet microchip ID, dental care, surgical services, digital radiography, and in-hospital laboratory services and diagnostics. Other highlights of Alexander Animal Hospital are the separate cat and dog waiting and exam rooms, as well as after-hours on-call emergency services.
Please take a look around our website and then give us a call at 410-777-8678 to set up an appointment.
We're social! Follow us on Facebook, Twitter, and Pinterest for all the latest updates!