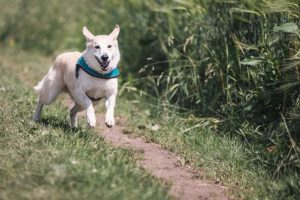 Playing with and taking care of pets provides valuable skills and experience to kids. The summer is a great time for your kids to bond with and take care of the family pet, since they don't have to be focused on school and other activities. On top of that, playing with the family pet will also get both your pet and your kids moving (and the odds are good that your cat could use more activity). There will be lots of time for family hikes, but there are also fun activities that you may not have thought of yet. So stow these activity ideas away for this summer when you hear "I'm bored!" and give the kids something to do.
Fetch
Fetch is a great game that most dogs know and love, and it is a great way to keep both the kid and the pup active. Did you know that you can teach fetch to your cats? Cats love to hunt and chase things and with a little time and they can learn to return the object to you to throw again. Challenge your kids to teach the cat to play fetch this summer.
Hide And Seek
Hide and seek can be a great game for kids, but it is one that some dogs will enjoy also. If you have an enclosed backyard, let your kids go out first and find hiding places, while you keep the dog inside. Once they are hidden, let the dog out to find the kids.
Obstacle Courses
Build an obstacle course inside or outside that your furry friend and your kid can master together. The kids can use boxes, noodles, hula hoops and anything else that strikes their creativity to build a maze or course, and then teach the pet how to run it.
Reading Practice
Summer isn't all about physical activity and there are bound to be rainy days. For some indoor fun, encourage your little ones to practice their reading by reading out loud to the dog or cat. Most pets will appreciate the interaction and your kid will have a captive audience who they don't have to stress about hearing their mistakes.
We Would Love the Opportunity to Care for Your Furry Friends!
Alexander Animal Hospital is a full-service animal hospital located in Severna Park, Maryland, serving the Severna Park, Pasadena, and Arnold Areas. Our goal is educating clients on the needs of their pets and understanding the importance of individualized veterinary care in order to strengthen the human-animal bond between owners and their pets.
We understand you have a choice when deciding on the care for your pets, and we strive to provide you with unparalleled services including wellness exams, vaccines, lost pet microchip ID, dental care, surgical services, digital radiography, and in-hospital laboratory services and diagnostics. Other highlights of Alexander Animal Hospital are the separate cat and dog waiting and exam rooms, as well as after-hours on-call emergency services.
Please take a look around our website and then give us a call at 410-777-8678 to set up an appointment.
We're social! Follow us on Facebook, Twitter, and Pinterest for all the latest updates!