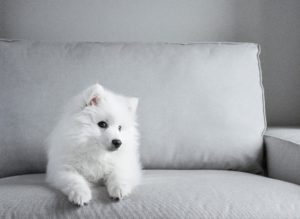 Life is so exciting for your puppy! Whether they are only four months old or they are about to reach their first birthday, there is so much to see, sniff, and chew on. But if your pup gets bored, they need a way to burn off that excess energy. So here are some fun ways you can build a bond with your newest fur-child.
The Value of Treats
Every dog loves to receive treats. Your puppy is no different! However, although older dogs already understand the appeal of a yummy snack, your puppy might not. They'll act out to get attention and treats, but some positive reinforcement will keep their attention focused on you in all the right ways. Teaching your puppy to sit and wait can help them understand that treats follow behaviors you are trying to encourage.
The Snuffling Trick
It's always super cute when our canine companions display a snuffling of their little noses. But you can make their snout part of a game designed to relieve boredom. Place some treats on the carpet but not right in front of your doggy. This gives them a chance to hunt, especially if you also try to hide treats in some tall grass. You can also use a snuffle mat that contains regular kibble, some wet food, or even peanut butter!
The Cup Game of Memory
Everyone needs to exercise their brains. We often don't realize how smart our dogs are! Play a cup game to improve their memory and help yours stay sharp, too. Put a handful of treats in some cups, but be sure to leave some cups empty. Then let your dog go and sniff them out. Once they have gotten the hang of this skill, it's time to take it to the next level. Turn the cups over and rearrange them, like a typical game of memory, to see if they can find the next batch of yum-yums!
We Would Love the Opportunity to Care for Your Furry Friends!
Alexander Animal Hospital is a full-service animal hospital located in Severna Park, Maryland, serving the Severna Park, Pasadena, and Arnold Areas. Our goal is educating clients on the needs of their pets and understanding the importance of individualized veterinary care in order to strengthen the human-animal bond between owners and their pets.
We understand you have a choice when deciding on the care for your pets, and we strive to provide you with unparalleled services including wellness exams, vaccines, lost pet microchip ID, dental care, surgical services, digital radiography, and in-hospital laboratory services and diagnostics. Other highlights of Alexander Animal Hospital are the separate cat and dog waiting and exam rooms, as well as after-hours on-call emergency services.
Please take a look around our website and then give us a call at 410-777-8678 to set up an appointment.
We're social! Follow us on Facebook, Twitter, and Pinterest for all the latest updates!