You know how to brush your teeth, even if you forget to do it or you're too tired. Let's say you've managed to teach your kids how to care for their teeth too. But one thing you can't do is teach your dog to do the same. So how can you go about getting dental care for your pup? It's time to find out.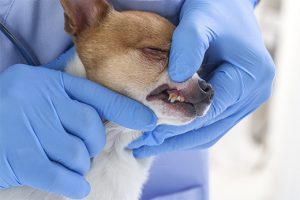 Finding Problems
One way to help figure out if your dog needs dental care is to smell their breath. Ever notice how your breath smells after you wake up in the morning or surface from a nap? It's possible for your pooch to have breath like that all the time. As with human teeth, any deposits of plaque will eventually turn into tartar. Sensitive teeth and tooth decay can also indicate there are severe dental health problems that need to be addressed.
Other Issues
Besides the issues named above, there are also other conditions you need to watch out for when it's time to get your pup some dental care. If they stop chewing their food, cry when they eat or have swollen gums or loose teeth, then you know they need to get some medical attention as soon as possible. 
Establishing Good Habits
As is the case with your human loved ones, it's important to establish good habits for your dogs. Dental treats can help with their breath and strengthen their teeth. Some chew toys work as toothbrushes, but you can take a toothbrush and brush your dog's teeth for them. Even so, if you're not sure what to do, or it doesn't look like it's helping, then you'll need to come in for a visit here at Alexander Animal Hospital. We would love to have you come over!
We Would Love the Opportunity to Care for Your Furry Friends!
Alexander Animal Hospital is a full-service animal hospital located in Severna Park, Maryland, serving the Severna Park, Pasadena, and Arnold Areas. Our goal is educating clients on the needs of their pets and understanding the importance of individualized veterinary care in order to strengthen the human-animal bond between owners and their pets.
We understand you have a choice when deciding on the care for your pets, and we strive to provide you with unparalleled services including wellness exams, vaccines, lost pet microchip ID, dental care, surgical services, digital radiography, and in-hospital laboratory services and diagnostics. Other highlights of Alexander Animal Hospital are the separate cat and dog waiting and exam rooms, as well as after-hours on-call emergency services.
Please take a look around our website and then give us a call at 410-777-8678 to set up an appointment.
We're social! Follow us on Facebook, Twitter, and Pinterest for all the latest updates!