Believe it or not, cats and dogs can share the same home. It honestly depends on the temperaments of both. But as long as it there isn't open hostility, you might be surprised that they can bond and become the best of friends. Here's a look at how to help your pets coexist.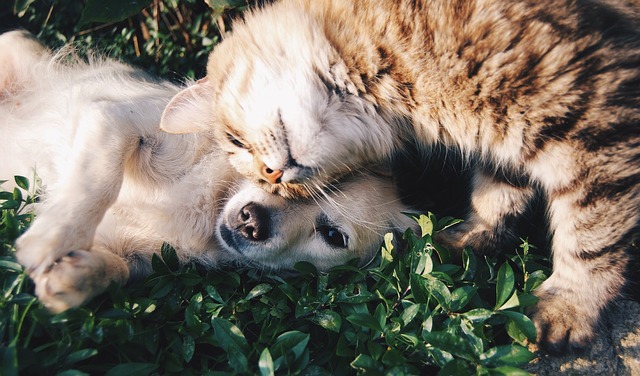 Dogs and Cats
Sometimes, the dog will want to chase the cat. This is because they are prey-driven and think that the cat is food. This can be a dangerous situation for both of your pets. Talk to the breeder or shelter where you are looking to adopt the dog from, and find out if they are prey-driven or not. These instincts can lead to disaster if they aren't addressed early enough. After all, you will want to make sure both pets are compatible with one another. Retraining is possible, but it could be difficult and time-consuming even if you know what you are doing.
Be Careful
In any case, be as careful as you can. Part of this involves being mindful of both pets' pasts. If you didn't raise them from the time they were young, you might not know their backstory. Both pets can territorial, no matter who enters the household first. Both pets can be protective of their human family. Eventually, they'll learn to play with each other, but you don't want any fights to break out the first time they meet.
Hand Out Treats
Everyone loves treats. Use this fact to your advantage. You've got to walk a fine line here, though: spoiling them can lead to further bad behavior. But at the same time, you have a chance to reinforce good behavior and get them to learn something. Reward them for good behavior.
We Would Love the Opportunity to Care for Your Furry Friends!
Alexander Animal Hospital is a full-service animal hospital located in Severna Park, Maryland, serving the Severna Park, Pasadena, and Arnold Areas. Our goal is educating clients on the needs of their pets and understanding the importance of individualized veterinary care in order to strengthen the human-animal bond between owners and their pets.
We understand you have a choice when deciding on the care for your pets, and we strive to provide you with unparalleled services including wellness exams, vaccines, lost pet microchip ID, dental care, surgical services, digital radiography, and in-hospital laboratory services and diagnostics. Other highlights of Alexander Animal Hospital are the separate cat and dog waiting and exam rooms, as well as after-hours on-call emergency services.
Please take a look around our website and then give us a call at 410-777-8678 to set up an appointment.
We're social! Follow us on Facebook, Twitter, and Pinterest for all the latest updates!