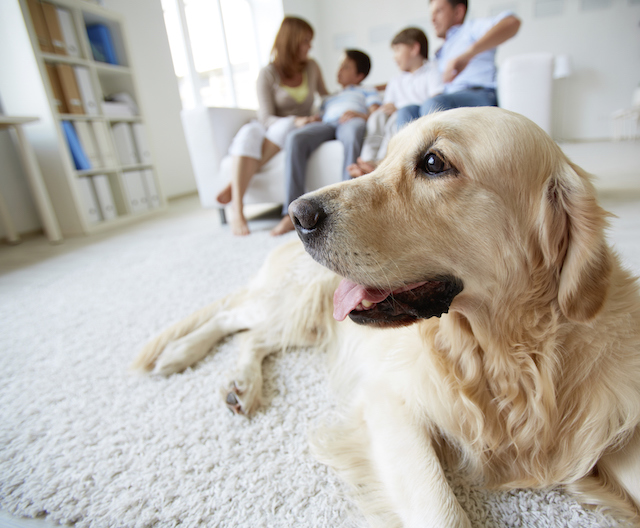 There are lots of things that can cause anxiety in pets, from travel to introducing new pets to heading to the vet. However, no cause is so common as that of loud noises. Many of you know when a storm is approaching or when fireworks are starting downtown, not because you hear the booms and crashes, but because your pets are going bananas. Perhaps they scratch at the doors or furniture to get closer to you and hide, maybe they seek refuge under furniture or inside cabinets, or maybe they pant and pace and whine. However they exhibit their distress, it is clear that your beloved pet is stressed. This stress is not just hard on their (and your) emotions. Anxiety can have serious physical effects too. So how can you help them cope?
Provide Comfort
You cannot and should not expect your pet to simply outgrow noise-anxiety with repeated exposure. In fact, repeated exposure may make the problem worse. If you know that there is a noise trigger for your pet, such as fireworks or the weekly trash truck, try to keep doors and windows closed during that time to keep the noise down. You could also turn on the TV or radio and turn on a fan or AC unit to help drown out some of that outside noise. Stay near your pet if you can, providing snuggles and comfort, or distracting them with a toy or game. If they tend to hide during noise, provide a comfortable hiding spot with food, water, and bedding so they do not have to brave the danger for a drink. Pressure garments, like Thurdershirts, may also be a useful tool in helping your pets calm down. If possible, never leave pets alone during times that their anxiety might be triggered.
In Extreme Cases
In extreme cases, it is worth talking to your vet about what else you can do. There may be a combination of strategies that can help your pet, including some behavior modification techniques.
We Would Love the Opportunity to Care for Your Furry Friends!
Alexander Animal Hospital is a full-service animal hospital located in Severna Park, Maryland, serving the Severna Park, Pasadena, and Arnold Areas. Our goal is educating clients on the needs of their pets and understanding the importance of individualized veterinary care in order to strengthen the human-animal bond between owners and their pets.
We understand you have a choice when deciding on the care for your pets, and we strive to provide you with unparalleled services including wellness exams, vaccines, lost pet microchip ID, dental care, surgical services, digital radiography, and in-hospital laboratory services and diagnostics. Other highlights of Alexander Animal Hospital are the separate cat and dog waiting and exam rooms, as well as after-hours on-call emergency services.
Please take a look around our website and then give us a call at 410-777-8678 to set up an appointment.
We're social! Follow us on Facebook, Twitter, and Pinterest for all the latest updates!