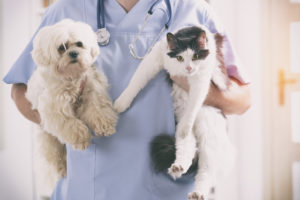 As winter ends and spring begins, you might get sick and think nothing of it. But if your pet gets sick, it won't be as easy to treat. For one thing, they can't tell you in as many words when they aren't feeling well. Here are some tips for how to recognize when your pet needs to go to the veterinarian.
Some of the Signs
No matter what time of the year it is, your pets can start to feel ill. That's why you need to keep your eyes open for some of these signs. For example, if they're not breathing or you can't feel a heartbeat, then that's a vet emergency. If they ate something poisonous, then you'll also need to go to the veterinarian. Some foods that humans enjoy are toxic to cats and dogs, so you need to be careful when sharing your treats with them! Heatstroke, hives, broken bones, and bleeding are also some of the other warning signs that you need to rush to the vet.
Where to Go Next
Depending on how bad the problem is, you either need to go to the vet or the animal hospital. Call the veterinarian you trust – leaving voicemail messages or emails are too slow and unreliable for a situation like this. If you can't reach anyone, then it's a good idea to take your pet to the nearest hospital. Your general practice veterinarian can provide the care that your furry friend needs unless there is some other issue that they can't diagnose or treat. That's where an animal hospital is often necessary.
How to Stay Ready
Keep the phone numbers of both your veterinarian and the animal hospital as a quick contact on your smartphone and in the kitchen, preferably somewhere you can find it easily in case of an emergency. Make sure all the medicines and medications you need for your pet are easy to find, too. Buy a health insurance policy for your pet, and take the time to learn how to perform first aid on your animal companion.
We Would Love the Opportunity to Care for Your Furry Friends!
Alexander Animal Hospital is a full-service animal hospital located in Severna Park, Maryland, serving the Severna Park, Pasadena, and Arnold Areas. Our goal is educating clients on the needs of their pets and understanding the importance of individualized veterinary care in order to strengthen the human-animal bond between owners and their pets.
We understand you have a choice when deciding on the care for your pets, and we strive to provide you with unparalleled services including wellness exams, vaccines, lost pet microchip ID, dental care, surgical services, digital radiography, and in-hospital laboratory services and diagnostics. Other highlights of Alexander Animal Hospital are the separate cat and dog waiting and exam rooms, as well as after-hours on-call emergency services.
Please take a look around our website and then give us a call at 410-777-8678 to set up an appointment.
We're social! Follow us on Facebook, Twitter, and Pinterest for all the latest updates!