Understanding what your dog wants and needs can be difficult. After all, you might not have much experience being a pet parent. But it is simpler than you might think. Here's more information when it comes to deciphering your dog's body language.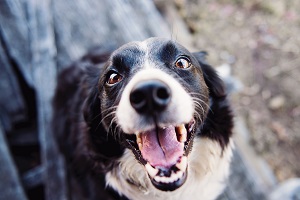 Leave Me Alone
Think about the signs you give off when you don't feel like interacting with anyone. While you are capable of expressing this feeling in words, your dog might not be able to; decoding their bark is only part of the story. Your dog cowering is one sign that they feel uncomfortable when it's time for brushing, so you should ease them into it. Yawning also doesn't indicate boredom or sleepiness. It's one way that a dog can vent off some stress. Moving around a lot can also be a sign – if they are trying to move away from you, it's a sign that they don't want to go for a car ride. Then again, they could also be super excited to go with you, even if they can't come.
I Am Frightened
Not moving around or running off can also indicate that your doggy is scared. Licking the lips, sticking the ears back and looking away are also signs of fear or stress. People can get nervous around dogs and can be flat out terrified whenever the see a dog, even a friendly one. Dogs can also be scared of people or other dogs. It all depends on their past experiences. Treats can help make the fear go away, but if your dog is scared of something, there's a good reason for it.
Can We Keep Going?
Pet your dog and see if they are into it. They might not want to be petted or shown affection all the time, even if they demand attention. Sometimes they'll want more attention – just because your done petting them doesn't mean they want you to stop!
We Would Love the Opportunity to Care for Your Furry Friends!
Alexander Animal Hospital is a full-service animal hospital located in Severna Park, Maryland, serving the Severna Park, Pasadena, and Arnold Areas. Our goal is educating clients on the needs of their pets and understanding the importance of individualized veterinary care in order to strengthen the human-animal bond between owners and their pets.
We understand you have a choice when deciding on the care for your pets, and we strive to provide you with unparalleled services including wellness exams, vaccines, lost pet microchip ID, dental care, surgical services, digital radiography, and in-hospital laboratory services and diagnostics. Other highlights of Alexander Animal Hospital are the separate cat and dog waiting and exam rooms, as well as after-hours on-call emergency services.
Please take a look around our website and then give us a call at 410-777-8678 to set up an appointment.
We're social! Follow us on Facebook, Twitter, and Pinterest for all the latest updates!