Is your dog overly itchy? As one of the most common concerns we see at Alexander Animal Hospital, if your dog is itchy, there are several causes that might be at play. Having a dog that is frequently itching, biting their feet and skin, and licking often can be worrying and annoying if it's loud. There are several things that can cause your pets to have irritated skin, today we'll go over some of the most common causes and help you learn how to help.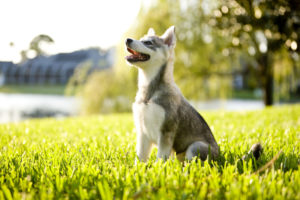 What's Making My Pet Itch?
The three most common causes for itching in dogs include parasites, allergies, and infections. Fleas are one of the most common reasons for dog itch, and unfortunately, can be difficult to get rid of. If you find that your dog has a flea problem, you likely will need to treat your entire home and yard as well as using topical and oral flea treatments for all of the animals within your home. If your dog has a food allergy, it can cause a variety of symptoms including itching, digestive upsets, and more, although in some cases your dog may only show signs of itchiness. Yeast and bacterial infections can also cause itching, as can excessively dry skin.
Treating Itchiness
After you find the cause of your pets scratching you can begin treatment. Flea and parasite treatment is often the most complicated because it requires that you remove the infestation from your pet and home at the same time. If you're treating your pet with a flea bath without addressing the fact that you likely have flea eggs in carpeting, and any fabric, you'll have another flea infestation as soon as your pooch dries off. Depending on the type of condition, you may be able to simply use topical treatments like anti-itch shampoos or oatmeal baths that help restore moisture and luster to your pet's coat. In the case of a bacterial or fungal issue, you'll usually use a medicated shampoo before trying an oral medication.
Oral Therapies
In the case of food allergies, excessive dryness, or advanced conditions, you may need to try oral medications, supplements, and more. Adding supplements of fish oil can be widely beneficial if your pet has dry skin or minor food allergies. You may also try antihistamines, steroids, and cyclosporine to help alleviate symptoms.
We Would Love the Opportunity to Care for Your Furry Friends!
Alexander Animal Hospital is a full-service animal hospital located in Severna Park, Maryland, serving the Severna Park, Pasadena, and Arnold Areas. Our goal is educating clients on the needs of their pets and understanding the importance of individualized veterinary care in order to strengthen the human-animal bond between owners and their pets.
We understand you have a choice when deciding on the care for your pets, and we strive to provide you with unparalleled services including wellness exams, vaccines, lost pet microchip ID, dental care, surgical services, digital radiography, and in-hospital laboratory services and diagnostics. Other highlights of Alexander Animal Hospital are the separate cat and dog waiting and exam rooms, as well as after-hours on-call emergency services.
Please take a look around our website and then give us a call at 410-777-8678 to set up an appointment.
We're social! Follow us on Facebook, Twitter, and Pinterest for all the latest updates!