Whether you've adopted an older dog, or you're starting to see the signs that your beloved animal companion is entering their golden years, understanding senior pet care is essential. Just like with humans, as pets age, they can have different health risks and needs to ensure that they're continuing to live their best lives.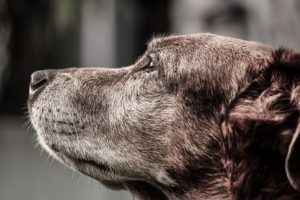 What To Expect
Just because your pet is getting older doesn't mean they won't still want to play and spend time with you, it just means they'll be a little slower and may have less stamina. Older pets may be more prone to vision or hearing loss, intestinal troubles, dental issues, joint pain, increased or strained urination, and may begin to develop skin issues including lumps. Most of these issues can be minor and will just need to be monitored with the help of twice-yearly vet visits. Different breeds and sizes of dogs and cats will have significantly different health risks and projected lifespans.
Caring For Your Elderly Pet
Along with your vet visits, keeping your pet in good health requires a few extra steps as they age. One of the most important aspects is to find the right food type and quantity. For older pets, maintaining a healthy weight with the proper nutrition is critical as many of the risks, like joint problems, fatigue, and even some organ issues, can be increased if your pet is overweight. Likewise, daily exercise is a crucial step to help eliminate stiffness and pain. Switching to orthopedic beds and raised water bowls can also help reduce the stress on your pet. Dental hygiene is another critical factor. As pets get older, their mouths can be more sensitive, and issues like tooth decay can lead to a variety of health issues. Daily teeth brushing and regular dental exams can help keep your pet's mouth healthy and significantly less stinky!
We Would Love the Opportunity to Care for Your Furry Friends!
Alexander Animal Hospital is a full-service animal hospital located in Severna Park, Maryland, serving the Severna Park, Pasadena, and Arnold Areas. Our goal is educating clients on the needs of their pets and understanding the importance of individualized veterinary care in order to strengthen the human-animal bond between owners and their pets.
We understand you have a choice when deciding on the care for your pets, and we strive to provide you with unparalleled services including wellness exams, vaccines, lost pet microchip ID, dental care, surgical services, digital radiography, and in-hospital laboratory services and diagnostics. Other highlights of Alexander Animal Hospital are the separate cat and dog waiting and exam rooms, as well as after-hours on-call emergency services.
Please take a look around our website and then give us a call at 410-777-8678 to set up an appointment.
We're social! Follow us on Facebook, Twitter, and Pinterest for all the latest updates!