Cats are always seen as being moody, distant, and aloof. Meanwhile, dogs are seen as perfect angels of love and harmony. These stereotypes are about as accurate as the ones that are often associated with people. There might be some small shred of truth, but most of the time, it's a big deal made about nothing at all. Even so, you need to know what is making your cat so angry.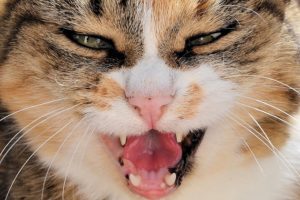 Too Much Stress
Think about how you react when you are overwhelmed with stress: you become mean, rude, and are insufferable to be around. Well, when cats are too stressed out, they might react the same way. Cats don't only express aggression through clawing or ripping up the furniture (which is meant to help keep their claws sharp!) in protest to what's going on, they ignore the litter box and use the floor instead. However, there are some things you can do. Find out what can help your cat calm down. Reduce what is causing them stress. Then get them checked out and make sure that whatever is affecting them isn't linked to a medical condition.
Physical Pain or Emotional Distress
Pain is awful. Humans do their best to avoid pain in both physical and emotional senses. It stands to reason that your cat would act the same way, because pain can make them hostile. Give them a place where they feel safe. They need to have somewhere to eat, play, and groom themselves where other animals can't bother them. Arranging this can be tricky if you have multiple pets sharing the same home.
Social Interactions
Socialization is also important. If you don't know how your cat might react to the presence of another pet that gets even more attention, then you might encounter the feline version of only-child syndrome. Socializing your cat with other cats and other pets will be a big help, especially if they have had trauma in their past that causes them to be fearful.
We Would Love the Opportunity to Care for Your Furry Friends!
Alexander Animal Hospital is a full-service animal hospital located in Severna Park, Maryland, serving the Severna Park, Pasadena, and Arnold Areas. Our goal is educating clients on the needs of their pets and understanding the importance of individualized veterinary care in order to strengthen the human-animal bond between owners and their pets.
We understand you have a choice when deciding on the care for your pets, and we strive to provide you with unparalleled services including wellness exams, vaccines, lost pet microchip ID, dental care, surgical services, digital radiography, and in-hospital laboratory services and diagnostics. Other highlights of Alexander Animal Hospital are the separate cat and dog waiting and exam rooms, as well as after-hours on-call emergency services.
Please take a look around our website and then give us a call at 410-777-8678 to set up an appointment.
We're social! Follow us on Facebook, Twitter, and Pinterest for all the latest updates!