Summertime is one of the best times of the year. However, spending time with loved ones can be tricky if they are the four-legged variety. Hot asphalt can burn little paws and even sitting inside the car can be a struggle without enough air conditioning to help keep everyone cool. Here are some helpful tips for keeping your pets safe and sound all summer long.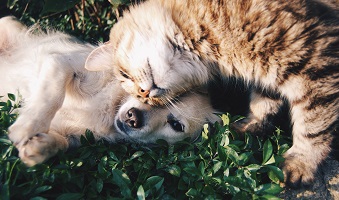 First Things First
Make sure you take them to the vet and get regular checkups. Keeping yourself healthy is important, but you won't know without a baseline of information collected by your doctor. The same advice goes for all of your pets, even if they aren't always only cats and dogs. An ounce of prevention is worth a pound of cure, especially when it comes to dental health, proper diets, and staying disease-free.
Vaccinations
You'll also want to make sure that your pets get all of the vaccinations that they need. That's because your pets will encounter wild animals, even if you aren't planning on taking them hiking, and might also drink from unclean water sources if you're unable to watch them closely enough. Be sure to bring plenty of cool, clean water with you on your next adventure – it's important for everyone!
Keeping Bugs Away
Mosquitoes are a constant pest for everybody in the summer, which is another good reason to steer clear of standing water puddles. But you also need to watch out for fleas and ticks, who will gladly hitch a ride on your furry friend while ignoring you. There is a silver lining though: there's plenty of medication you can use to help your pets with this problem.
Dealing with the Heat
Heat and humidity can make everyone feel uncomfortable when we don't get enough water. But your pets don't sweat the same way humans do, which is why dealing with the heat is so much more important for them. Overweight or obese pets are in more danger of heatstroke, and if they have heart problems, trouble breathing, or they are senior pets. 
We Would Love the Opportunity to Care for Your Furry Friends!
Alexander Animal Hospital is a full-service animal hospital located in Severna Park, Maryland, serving the Severna Park, Pasadena, and Arnold Areas. Our goal is educating clients on the needs of their pets and understanding the importance of individualized veterinary care in order to strengthen the human-animal bond between owners and their pets.
We understand you have a choice when deciding on the care for your pets, and we strive to provide you with unparalleled services including wellness exams, vaccines, lost pet microchip ID, dental care, surgical services, digital radiography, and in-hospital laboratory services and diagnostics. Other highlights of Alexander Animal Hospital are the separate cat and dog waiting and exam rooms, as well as after-hours on-call emergency services.
Please take a look around our website and then give us a call at 410-777-8678 to set up an appointment.
We're social! Follow us on Facebook, Twitter, and Pinterest for all the latest updates!