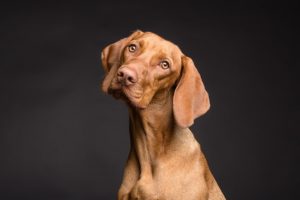 You often talk to your dog, and they talk back. At least, they do in their own way. For all the times you wish you could understand what their barks mean, it doesn't have to remain a mystery. But since dogs can't speak back to us the way other people can, you will just have to read your dog's body language. Here is a guide on how to do that.
Look at Their Eyes
The part of the eyes that matters the most is the white part, known as the sclera. Look at where your dog is looking. Tension manifests itself as the eyes being rounder than normal. You might also notice more of the white part than you normally would when your dog is feeling calm. This condition is called the "whale eye". When the pupils are dilated, that also tells you that your pup is spooked. They might be feeling threatened, stressed out, or scared for some other reason. However, one way to know that your dog is feeling fine is also to watch the eyes. They squint when they feel relaxed, so you'll spot almond-shaped eyes and you won't be able to see any white at all.
Watch the Mouth
Your dog's mouth can also tell you how they are feeling at the moment. An open mouth with slight panting also indicates a relaxed mood, as odd as that sounds. It's just how dogs are programmed. Closed mouths and long lips display fear and tension. A snarling face exhibits anger or aggression, but hopefully, you only see that in small doses. Most of the time, your dog should smile. Along with other types of body language, you can tell that your dog is happy, especially when they perform a puppy bow.
We Would Love the Opportunity to Care for Your Furry Friends!
Alexander Animal Hospital is a full-service animal hospital located in Severna Park, Maryland, serving the Severna Park, Pasadena, and Arnold Areas. Our goal is educating clients on the needs of their pets and understanding the importance of individualized veterinary care in order to strengthen the human-animal bond between owners and their pets.
We understand you have a choice when deciding on the care for your pets, and we strive to provide you with unparalleled services including wellness exams, vaccines, lost pet microchip ID, dental care, surgical services, digital radiography, and in-hospital laboratory services and diagnostics. Other highlights of Alexander Animal Hospital are the separate cat and dog waiting and exam rooms, as well as after-hours on-call emergency services.
Please take a look around our website and then give us a call at 410-777-8678 to set up an appointment.
We're social! Follow us on Facebook, Twitter, and Pinterest for all the latest updates!