Just like humans, pets need vaccinations as well. Something that affects pets but doesn't affect people is a parasite called heartworm. Mosquitoes have a chance of transmitting a roundworm to your pets whenever they are outside. Spring is coming, so be prepared! Here is what you need to know.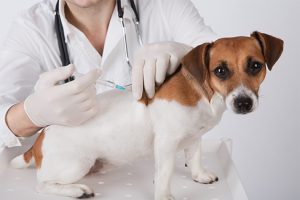 The Heartworm
The reason that this roundworm is called heartworm is that it can live in your pet's heart. This also means that it can burrow into the pulmonary arteries, and then damage the heart and other vital internal organs. The heartworm goes through multiple stages of development and can stick around, which is why a comprehensive approach to preventative care is so important. For instance, let's say that the mosquito picks up the worm from another infected animal. Sometime between the next 10-30 days, the worm larvae develop. After your pet gets a mosquito bite, the worms are transmitted into their bloodstream where they can access the heart. If nothing is done within six months, the whole cycle starts over again as the worms continue to reproduce.  

Signs
So how can you tell if your cat or dog has heartworm? After all, they both tend to disguise pain, sickness, or discomfort, even from their human family. Cats will wheeze, cough, vomit, have trouble breathing, and begin to lose weight. They could also die.

Dogs will become more lethargic, less keen on exercising, display a quiet but dry cough, and also lose weight. Their breathing will become labored, their chest could bulge, and they could collapse.
Getting a Diagnosis
It is crucial to get a timely diagnosis. That way, you can get your pets treated before their conditions worsen due to the presence of roundworm or heartworm. Diagnoses are made is by conducting blood tests.

We Would Love the Opportunity to Care for Your Furry Friends!
Alexander Animal Hospital is a full-service animal hospital located in Severna Park, Maryland, serving the Severna Park, Pasadena, and Arnold Areas. Our goal is educating clients on the needs of their pets and understanding the importance of individualized veterinary care in order to strengthen the human-animal bond between owners and their pets.
We understand you have a choice when deciding on the care for your pets, and we strive to provide you with unparalleled services including wellness exams, vaccines, lost pet microchip ID, dental care, surgical services, digital radiography, and in-hospital laboratory services and diagnostics. Other highlights of Alexander Animal Hospital are the separate cat and dog waiting and exam rooms, as well as after-hours on-call emergency services.
Please take a look around our website and then give us a call at 410-777-8678 to set up an appointment.
We're social! Follow us on Facebook, Twitter, and Pinterest for all the latest updates!