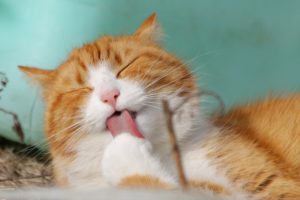 Many house pets adore human food. After all, there is so much more variety than the flavored foods that are specially formulated for them to eat. Your dogs will probably beg for table scraps, no matter how much you feed them. Likewise, you and your cat will probably fall into a feeding routine. Even with treats designed to help treat hairballs, they will probably want some examples of people-food.
Caffeine and Chocolate
Everyone loves caffeine since it helps us power through our morning. Still, this is something that you can't expose your cat to; the same goes for chocolate. These foods are also unsafe for dogs to consume, so it comes down to proper pet care. If you have a negligent family member who doesn't believe that this is possible, do what you can to inform them that they are wrong.
Dairy
It's a misconception that cats enjoy drinking milk the same way we do. Human babies depend on mother's milk to help them grow and develop. Kittens also need this, but at some point, they outgrow it. Dairy products contain lactose, and that is something that your cats can't digest, no matter how much they like the taste. Milk and cream like the kinds you would put in your cereal bowl or your teacup can give your cats a nasty stomach ache.
Onions and Garlic
Onions and garlic are both delicious accompaniments to meals from all over the world. Whether it is a veggie stir-fry served on top of rice or a cheesesteak sub smothered in mushrooms, garlic and onions smell wonderful as long as they aren't overcooked. Too many onions and garlic can be a bad thing, especially for your feline friends! Scallions are another member of the onion and garlic family that can have some adverse effects on your kitty, from damaging red blood cells to reduced appetite, both of which are worrying conditions.

We Would Love the Opportunity to Care for Your Furry Friends!
Alexander Animal Hospital is a full-service animal hospital located in Severna Park, Maryland, serving the Severna Park, Pasadena, and Arnold Areas. Our goal is educating clients on the needs of their pets and understanding the importance of individualized veterinary care in order to strengthen the human-animal bond between owners and their pets.
We understand you have a choice when deciding on the care for your pets, and we strive to provide you with unparalleled services including wellness exams, vaccines, lost pet microchip ID, dental care, surgical services, digital radiography, and in-hospital laboratory services and diagnostics. Other highlights of Alexander Animal Hospital are the separate cat and dog waiting and exam rooms, as well as after-hours on-call emergency services.
Please take a look around our website and then give us a call at 410-777-8678 to set up an appointment.
We're social! Follow us on Facebook, Twitter, and Pinterest for all the latest updates!