It's an unfortunate fact that the trope of the fat cat has made feline obesity seem normal. While cats require a much higher rate of beauty rest than us mere humans, they do need their fair share of exercise. Getting your cat more active can be tricky, especially now that many have realized that letting your cat outdoors is not the best option (dangerous for them and the environment). Fortunately, there are more than a few ways to keep your cat active and at a healthy weight.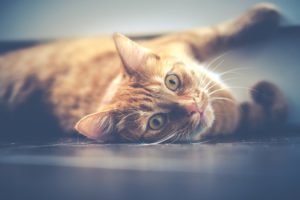 Let Them Hunt 
Consider how wild cats may eat – often its smaller meals throughout the day with a hunt involved. Rather than leaving all of the food out at once try hiding multiple smaller bowls throughout your home in different places. Not only does this help keep your cat active, but it simulates their natural habits. You can also try puzzle feeders if food needs to stay in one place.
Use Yummy Treats
Cats love a good game of hide and seek! To play with your cat start by placing a toy in a visible location – when they retrieve it, they get a treat. After going through this game several times, they'll quickly learn the rules, and the hiding places can become more inventive.
The Thrill of the Chase
Most cats have at least one toy that gets them hopping to and fro – whether it's a ball, string, catnip toy, or a feather. Once you've found a toy that your cat enjoys make sure to set time aside every day for playtime. You can also try making toys to see what will get your pet going. Simple things like balled up paper, sections of paper towel roll, and plastic bottle caps are often just as appealing to cats as more expensive playthings. Just be sure that whatever you use is large enough and of a material that it cannot be ingested.
Places to Climb and Scratch
Cat trees are a great way to increase activity and give your furry pal a place to rest. Often, these will include scratching posts that help keep claws away from furniture. When on a budget, a cat tree can be assembled with some simple handiwork!
Keep an Eye Out for Any Changes
Last but not least, keep an eye out for fluctuations in weight. For cats and other small animals, even minor weight changes can be signs of significant problems. You might not worry if you lost a single pound, but when you weigh less than 10 lbs, overall one is 10% of your body. Likewise, if you notice your pet gains significant weight that can be an issue as well. In the event of weight, changes make sure to consult with your vet!
We Would Love the Opportunity to Care for Your Furry Friends!
Alexander Animal Hospital is a full-service animal hospital located in Severna Park, Maryland, serving the Severna Park, Pasadena, and Arnold Areas. Our goal is educating clients on the needs of their pets and understanding the importance of individualized veterinary care in order to strengthen the human-animal bond between owners and their pets.
We understand you have a choice when deciding on the care for your pets, and we strive to provide you with unparalleled services including wellness exams, vaccines, lost pet microchip ID, dental care, surgical services, digital radiography, and in-hospital laboratory services and diagnostics. Other highlights of Alexander Animal Hospital are the separate cat and dog waiting and exam rooms, as well as after-hours on-call emergency services.
Please take a look around our website and then give us a call at 410-777-8678 to set up an appointment.
We're social! Follow us on Facebook, Twitter, and Pinterest for all the latest updates!