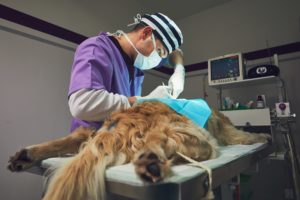 No one wants to think about it when a loved one is seriously ill. Despite impressive advances in medical science, no one has discovered or created the magic cure for cancer. For one thing, there are so many different types that can affect virtually every part of the body. Unfortunately, there is no instant cure for when our pets have cancer. While chemo has its downsides (particularly its nasty side effects), there's little doubt that it works. So how is pet chemotherapy any different than the treatments we've devised for people? 
What is the Treatment Delivery Method? 
The most common treatment delivery format is via injection. However, sometimes, pills are used as a quick substitute. The injections are either into the vein (IV), the muscle (IM), or occasionally, as slow drips. Slow infusions over a day or two are possible, but they are also extremely rare.  
How Well Does Pet Chemotherapy Work? 
As with human chemotherapy courses, pet chemotherapy is meant to help extend the patient's life. The quality of life matters just as much, if not more. When you meet with the veterinary oncologist, the doctor will give you more details, information, and estimates based on several factors. During the initial consultation, you can expect to learn more about the success rates of chemo by itself and in tandem with treatments. It all depends on which cancer to eliminate and the pet in question.
What is the Expected Length of Treatment? 
Another frequently-asked question involves timelines. How many treatments does my pet need? There is no single solid answer. The cancer type, the chemo protocol, and how well your fur baby responds to the treatments are complex variables.  
Do They Need to Be Hospitalized?
The good news is that long-term animal hospital stays won't be necessary. Most of the time, this procedure is considered an outpatient approach. While your pet will need to be at the hospital for a few hours each day, they can go home later that day!
We Would Love the Opportunity to Care for Your Furry Friends!
Alexander Animal Hospital is a full-service animal hospital located in Severna Park, Maryland, serving the Severna Park, Pasadena, and Arnold areas. Our goal is to educate clients on their pets' needs and understand the importance of individualized veterinary care to strengthen the human-animal bond between owners and pets. 
We understand you have a choice when deciding on the care for your pets. Therefore, we strive to provide you with unparalleled services, including wellness exams, vaccines, lost pet microchip ID, dental care, surgical services, digital radiography, and in-hospital laboratory services and diagnostics. Other highlights of Alexander Animal Hospital are the separate cat and dog waiting and exam rooms and after-hours on-call emergency services.
Please look around our website and then give us a call at 410-777-8678 to set up an appointment. We're social! Follow us on Facebook, Twitter, and Pinterest for all the latest updates!