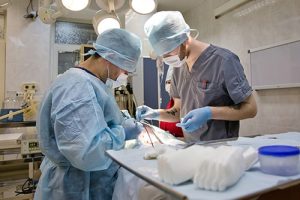 Here at Alexander Animal Hospital, one of the critical services we provide is pet tumor removal. While you may be familiar with how this procedure works for people, you might not know much about how it's different for housepets. After any kind of surgery, rest and recuperation are essential. Without them, recovery will take far longer than it should. Anxious pet parents will appreciate these tips for proper pet care after any surgery, whether it's tumor removal or not!
Cautiously Restricting Activity Levels 
Even if the tumor is benign, the tumor removal surgery will still make your pet woozy. That's why you've got to restrict normal activity levels. For the first week after the surgery happens, ensure they have a safe place to rest and relax. The wound will heal, eventually. 
Monitoring the Incision Site 
Next, double-check the area around the incision site. Look at it every day for seven days. Take note of possible infection symptoms such as unusual redness, swelling, or drainage. If you spot these signs, let us know right away! Do what you can to stop your pet from licking or chewing where the tumor removal wound is; it's bound to be bothersome and painful. 
Giving the Necessary Medication 
Medicating your pets can be quite an ordeal (it's why pill-shooters were invented for giving your cats their pills!), but you can do it! Be sure to follow all of the instructions we provide you. Make your companions take every dose of their prescription even if you think they're on the upswing. Don't give your pets human medicine – it's not formulated the same way. Thus, it could potentially be harmful and unhelpful. Instead, talk to the doctors and technicians who examined your furry friend.
We Would Love the Opportunity to Care for Your Furry Friends!
Alexander Animal Hospital is a full-service animal hospital located in Severna Park, Maryland, serving the Severna Park, Pasadena, and Arnold areas. Our goal is to educate clients on their pets' needs and understand the importance of individualized veterinary care to strengthen the human-animal bond between owners and their pets.
We understand you have a choice when deciding on the care for your pets. We strive to provide you with unparalleled services, including wellness exams, vaccines, lost pet microchip ID, dental care, surgical services, digital radiography, and in-hospital laboratory services and diagnostics. Other highlights of Alexander Animal Hospital are the separate cat and dog waiting and exam rooms and after-hours on-call emergency services.
Please take a look around our website and then give us a call at 410-777-8678 to set up an appointment. We're social! Follow us on Facebook, Twitter, and Pinterest for all the latest updates!