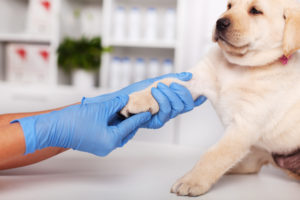 The word "rabies" is scary. No one ever wants to hear it mentioned in the same sentence as "your pet," so what do you do then? It's far more common for rabies to affect the wild animals that live in your neighborhood's woods. Even so, they could spread the disease through incidental contact with your cats and dogs. For their sake, and in the name of responsible pet care, get them vaccinated as soon as you can. 
What is This Frightening Disease? 
Pet care can be a fun experience. But this wild ride isn't without its worries. This disease is caused by a virus contained in the saliva of an already-infected (rabid) animal. Even small bites and scratches can open a wound. The virus uses this wound as a way in. Alarmingly, humans can also be infected with rabies, which may shock you. 
How Can It Affect My Dog? 
One of the fundamental elements of pet care is understanding when something is wrong with their health. Make sure that all of your dogs are adequately vaccinated. That way, rabies won't change their personality – aggression and other odd and erratic behaviors could indicate rabies infection.
Can It Harm My Cat? 
Rabies is often fatal to both dogs and cats. So yes, it can also harm your precious little kitty. The telltale symptoms manifest differently in cats, though. Depending on the stage of the disease, you could see that your cat's demeanor has changed – for the worse. Aggression, muscle spasms, drooling, and seizures can all be signs of your cat's well-being deteriorating. Eventually, they'll slip into a coma and, later on, die of heart failure.  
The Unfortunate Lack of Testing 
There's a significant problem that hinders diagnosing rabies. It is an unfortunate lack of viable testing. Sadly, the tests cannot identify the virus for living animals. They can only determine the disease's presence after it has already taken your pets across the rainbow bridge. 
We Would Love the Opportunity to Care for Your Furry Friends!
Alexander Animal Hospital is a full-service animal hospital located in Severna Park, Maryland, serving the Severna Park, Pasadena, and Arnold areas. Our goal is to educate clients on their pets' needs and understand the importance of individualized veterinary care to strengthen the human-animal bond between owners and their pets.
We understand you have a choice when deciding on the care for your pets. We strive to provide you with unparalleled services, including wellness exams, vaccines, lost pet microchip ID, dental care, surgical services, digital radiography, and in-hospital laboratory services and diagnostics. Other highlights of Alexander Animal Hospital are the separate cat and dog waiting and exam rooms and after-hours on-call emergency services.
Please take a look around our website and then give us a call at 410-777-8678 to set up an appointment. We're social! Follow us on Facebook, Twitter, and Pinterest for all the latest updates!