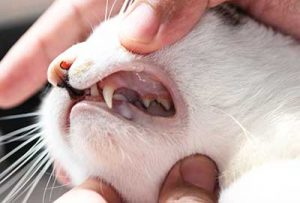 Caring for all of your pets can sometimes be a struggle. After all, it's hard to communicate when you can't speak the same language! But just because cats and dogs cannot talk doesn't mean they can't get their point across. Many times, it's a natural animal instinct to hide signs of pain or discomfort. The reason for this is simple: it would mark them as easy prey for predators to target. Your household pets aren't fending for themselves, though – they've got humans like you to look after them! 
Decoding the Plaque Puzzle 
First of all, you must understand the problem that plaque presents. When you get out of bed every morning, you probably have this odd and unpleasant feeling that your teeth are sticky for some reason. Likewise, your morning breath is bound to be much worse than it usually is. That's all due to plaque. Considering how many hours in a day your kitty spends snoozing, their plaque levels are likely to be off the charts. Plaque eventually turns into tartar. The tartar can then, at some point, develop into periodontal disease. When gum disease spirals out of control, it's definitely bad news.
Dental and Oral Health Concerns 
Just like people, your four-legged friends have their own dental and oral health issues. Taking your cat to the vet whenever they show symptoms of sickness is essential. Until the next appointment, though, watch your cat. Bad breath, bleeding gums, swollen gums, and mouth ulcers are just as nasty as they would be for you. Drooling, pawing at the mouth, and not eating are also warning signs that they've got some form of gingivitis. 
Brushing Their Little Teeth 
When your kids were little, you probably had to teach them how to brush their teeth. Your cats are a different story – they don't have the hands or fingers to do that for themselves. So you've got to step in and clean their teeth for them instead. Massage the gums with your finger or a soft cotton swab. By doing this, you help them adjust to the sensation. Once they're used to it, use a toothbrush made specifically for feline teeth. It's much smaller, and the bristles are softer, too. Specially-formulated toothpaste will also help ease the discomfort. Don't forget about treats, toys, and playtime! Rewarding your kitten now will save you many painful scratchings later.  
We Would Love the Opportunity to Care for Your Furry Friends!
Alexander Animal Hospital is a full-service animal hospital located in Severna Park, Maryland, serving the Severna Park, Pasadena, and Arnold areas. Our goal is to educate clients on their pets' needs and understand the importance of individualized veterinary care to strengthen the human-animal bond between owners and their pets.
We understand you have a choice when deciding on the care for your pets. We strive to provide you with unparalleled services, including wellness exams, vaccines, lost pet microchip ID, dental care, surgical services, digital radiography, and in-hospital laboratory services and diagnostics. Other highlights of Alexander Animal Hospital are the separate cat and dog waiting and exam rooms and after-hours on-call emergency services.
Please take a look around our website and then give us a call at 410-777-8678 to set up an appointment. We're social! Follow us on Facebook, Twitter, and Pinterest for all the latest updates!