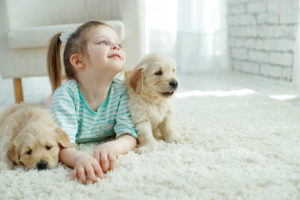 Babies are cute. They're also one of the most magical creatures you'll ever see. Do you know what some other magical creatures are? The housepets we take into our homes. The furry family members might be baffled at first why their Hooman Mom is suddenly…a bit rounder…than she used to be. And then they'll be startled, confused, and perhaps a little alarmed when another human joins them – a tiny human who cries a lot and can't give them treats yet. So how do you build that bond and establish a lifelong friendship? We can show you how! 
Before the Baby Comes Home 
Your pets are creatures of habit. When their daily routines are disrupted, their anxiety skyrockets. A newcomer to the family unit may be unwelcome at first, no matter how large or small they are. Change your pet's routine, little by little. This step will take longer with your dogs since your cat will pretty much do whatever it wants. Allow your cats and dogs to inspect the items set aside for the baby's use: diapers, bottles, and strollers, for instance. Give your pets (especially pups) time to learn what a stroller is. Then teach them how to walk with the stroller and refresh them on the obedience commands you've taught them before. 
Making Introductions and Inviting Curiosity
Home births are becoming more and more popular. However, births at hospitals are still the accepted conventional method for delivery and postnatal care. Bring clothes or blankets that have acquired that wonderful new baby smell. Enter your home to greet your pet and ask someone else to bring Baby inside. 
After Your Child Gets a Little Older 
Given time, your pets will get used to their new family member. As your child starts growing up, they'll learn to crawl, walk, and then run. By this time, they'll be able to chase your pets around or tug on ears and tails. Don't neglect your pets in favor of the kids; use positive reinforcement to avoid stirring up feelings of sadness, jealousy, or resentment. 
Instead, give your pet some new toys. That should distract them from playing with the baby's toys. Scolding your pet for taking away their human siblings' playthings is the wrong move. Lastly, make sure your pets and kids are always supervised when they are together. This ensures that everyone will stay safe. 
We Would Love the Opportunity to Care for Your Furry Friends!
Alexander Animal Hospital is a full-service animal hospital located in Severna Park, Maryland, serving the Severna Park, Pasadena, and Arnold areas. Our goal is to educate clients on their pets' needs and understand the importance of individualized veterinary care to strengthen the human-animal bond between owners and pets.
We understand you have a choice when deciding on the care for your pets. Therefore, we strive to provide you with unparalleled services, including wellness exams, vaccines, lost pet microchip ID, dental care, surgical services, digital radiography, and in-hospital laboratory services and diagnostics. Other highlights of Alexander Animal Hospital are the separate cat and dog waiting and exam rooms and after-hours on-call emergency services.
Please look around our website and then give us a call at 410-777-8678 to set up an appointment. We're social! Follow us on Facebook, Twitter, and Pinterest for all the latest updates!