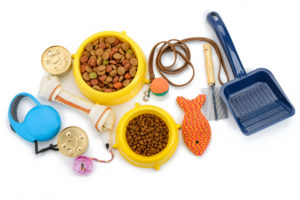 Cats are, according to common stereotypes, aloof animals. Sure, they hear you, but the real question is: do they care? Even the sleepiest, most languid cat craves fresh air from time to time. Suppose, for instance, that you used to live in an apartment that featured a balcony. Your cat could come and go at their leisure, sunning themselves without fear of falling over the edge or running away. Then, there are those extra-curious felines who want to go explore. That's why you should train them to walk on a leash! 
First, Get Your Cats Used to the Leash 
Your dogs had to learn how to walk on a leash. Even if they still have some bad habits, they really do enjoy going on walks. Sadly, your cat might not be so eager. That's why the first step in the leash training process is to let your cats acclimate to their new addition. The harness is going to be the most important part of getting them used to the leash. After all, they need to learn how the harness affects their balance and coordination. Use treats as positive reinforcement. This approach will help Kitty accept the harness more quickly. Don't give them any treats after the harness is off. Continue doing this little by little, leaving the harness on each time. 
Second, Guide Them Around on the Leash Inside 
The next phase is to lead them around your home while tethered to the leash. Allow some slack on the leash. At this point, tension is the worst thing that could happen. Supervise your cat, though. They might get upset or scared if you let them wander off while wearing their harness or leash. 
Third, Help Them Recognize Leash Tension 
Now you can introduce the feeling of leash tension. Sounds simple, right? Unfortunately, no. you need to give your cat plenty of time to adjust. That's why both of these milestones won't happen overnight. 
Last, Start Walking Them Around the House 
Be gentle as you coax your cat to follow you around your home. After all, it's their domain – you're just lucky enough to live there!
We Would Love the Opportunity to Care for Your Furry Friends!
Alexander Animal Hospital is a full-service animal hospital located in Severna Park, Maryland, serving the Severna Park, Pasadena, and Arnold areas. Our goal is to educate clients on their pets' needs and understand the importance of individualized veterinary care to strengthen the human-animal bond between owners and pets.
We understand you have a choice when deciding on the care for your pets. Therefore, we strive to provide you with unparalleled services, including wellness exams, vaccines, lost pet microchip ID, dental care, surgical services, digital radiography, and in-hospital laboratory services and diagnostics. Other highlights of Alexander Animal Hospital are the separate cat and dog waiting and exam rooms and after-hours on-call emergency services.
Please look around our website and then give us a call at 410-777-8678 to set up an appointment. We're social! Follow us on Facebook, Twitter, and Pinterest for all the latest updates!