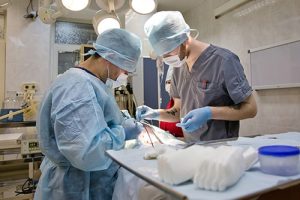 Emergency care is always a stressful experience. Whether it is you or a loved one undergoing such critical procedures, it's never fun. And it's probably a memory you want to leave behind when it's all over. But while your family members (even the youngest ones) might be able to vocalize what they're feeling, our pets don't have the same ability. Telling the difference between pet emergencies and less-severe urgent care situations can be a difficult distinction to make. We understand that, so let us tell you more!
Before You Get an Experienced Veterinarian Involved 
First of all, calling the vet might not be your first choice. Even so, expecting the worst is more practical than simply hoping for the best. Assemble a pet first aid kit and learn the differences between pet and human CPR techniques. You'll also need to brush up on how to move an animal that is sick or injured without hurting them even more badly. Emergency pet hospitals can admit incoming patients even when regular veterinary clinics are closed for the day or weekend.  
Being Prepared and Watchful for Unusual Changes 
Healthcare keeps everyone feeling healthy and happy. No matter which species they belong to, everyone deserves high-quality care. Pets are part of your family, too, so to keep them feeling good, watch how they behave. For example, track when they eat (and how they eat), how regular they are, and how much sleep they get. It can be a tough life out there for a housepet! Think about how active they are, along with their general disposition. If you see anything out of the ordinary, make a note of it. Important contextual information to record include the time something happens, what else is happening in the home, and how long the incident lasted or the symptoms persisted. 
Alarming Signs That Urgent Care is Needed
Pet emergencies occur in numerous ways. Likewise, urgent care could happen when you least expect it and baffle you about what is happening. A cat coughing up some grass from the backyard is not the same as your dog eating grapes or other foods that are toxic to them. Eye injuries, scratches, bites, wounds, seizures, and trouble breathing are all indications that you've got to hustle them to the hospital, stat! 
We Would Love the Opportunity to Care for Your Furry Friends!
Alexander Animal Hospital is a full-service animal hospital located in Severna Park, Maryland, serving the Severna Park, Pasadena, and Arnold areas. Our goal is to educate clients on their pets' needs and understand the importance of individualized veterinary care to strengthen the human-animal bond between owners and pets. 
We understand you have a choice when deciding on the care for your pets. Therefore, we strive to provide you with unparalleled services, including wellness exams, vaccines, lost pet microchip ID, dental care, surgical services, digital radiography, and in-hospital laboratory services and diagnostics. Other highlights of Alexander Animal Hospital are the separate cat and dog waiting and exam rooms and after-hours on-call emergency services.
Please look around our website and then give us a call at 410-777-8678 to set up an appointment. We're social! Follow us on Facebook, Twitter, and Pinterest for all the latest updates!