Taking care of your own teeth is important, but you also need to keep an eye on the dental health of your dog. After all, they can't exactly brush, floss, or use mouthwash for themselves. Proper dental care goes a long way towards keeping your furry pal happy and healthy. So here's a quick look at what you should do.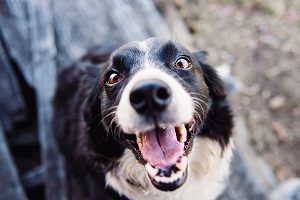 How to Spot a Problem
Any plaque on your dog's teeth will eventually turn into tartar. If this is unpleasant for you, just imagine how bad it is for your pup! You might start to notice something is wrong when your dog always has bad breath, has sensitive teeth, or teeth that are starting to fall out. Eventually infections and disease will spread out and affect other parts of your dog's body.
Other Signs to Watch For
If you spot these problems, keep an eye out for other health issues. These behaviors or signs might be easier to look for, since they're more readily apparent. These include avoidance of chewing their food, crying when they are eating or about to eat, red or bloody gums, and loose teeth.
Starting a Routine
One way to help start a routine for dental care is to brush your dog's teeth. After all, you probably help brush your kids' teeth when they are too young to do it for themselves, and this isn't that much different. Brush their teeth every two or three days for best results. You can even give them chew toys that function as toothbrushes, too! If you're unsure of what to do, or you don't see any improvement, then it could be time to bring your four-legged friend in and see the friendly professionals here at Alexander Animal Hospital!
We Would Love the Opportunity to Care for Your Furry Friends!
Alexander Animal Hospital is a full-service animal hospital located in Severna Park, Maryland, serving the Severna Park, Pasadena, and Arnold Areas. Our goal is educating clients on the needs of their pets and understanding the importance of individualized veterinary care in order to strengthen the human-animal bond between owners and their pets.
We understand you have a choice when deciding on the care for your pets, and we strive to provide you with unparalleled services including wellness exams, vaccines, lost pet microchip ID, dental care, surgical services, digital radiography, and in-hospital laboratory services and diagnostics. Other highlights of Alexander Animal Hospital are the separate cat and dog waiting and exam rooms, as well as after hours on-call emergency services.
Please take a look around our website and then give us a call at 410-777-8678 to set up an appointment.
We're social! Follow us on Facebook, Twitter, and Pinterest for all the latest updates!