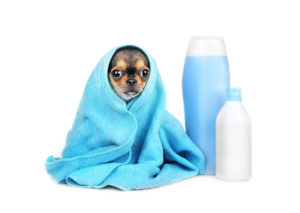 It's something magical every year – the first snowfall of the season! Even as life changes (no more snow days from school, gulp!) some things still stay the same (Wanna go sledding??) But once you do go outside, don't forget to bundle up! Whether you are planning to organize a big snowball fight, go for a quick hiking trek, or just want to take your dog outside for a walk, don't let the nasty weather get you down! 
Basic Skin Care Suggestions 
Let's say that your puppy has only seen snow once before in his young life – and this year he is even more mesmerized! Letting them out into the backyard to go romp and chase snowflakes is adorably amusing, but the cold can take its toll on their fur, skin, and paws. In this case, winter paw care is easy – just make sure your home is adequately humidified and that you towel off their body, feet, and toes as thoroughly as you can. 
Trim Back Long Hair 
Certain breeds of dogs have longer hair than other breeds do. When your dog has long hair, you'll want to do your best to keep their coat warm and toasty – and trimming back their hair can minimize the accumulation of ice balls, salt crystals, and de-icing chemicals that could linger on their skin or potentially sicken them if they need to lick off their paws. 
Bring Towels with You 
When you need to go on a longer-than-usual walk, be sure to take some dry towels with you. That way, you can help them reduce the irritation from cold and stinging paws; then be sure to wash and dry your pet's feet. After that, double-check for cracks in the paw pads or if the gaps between the toes are unnaturally red.  
We Would Love the Opportunity to Care for Your Furry Friends!
Alexander Animal Hospital is a full-service animal hospital located in Severna Park, Maryland, serving the Severna Park, Pasadena, and Arnold Areas. Our goal is educating clients on the needs of their pets and understanding the importance of individualized veterinary care in order to strengthen the human-animal bond between owners and their pets.
We understand you have a choice when deciding on the care for your pets, and we strive to provide you with unparalleled services including wellness exams, vaccines, lost pet microchip ID, dental care, surgical services, digital radiography, and in-hospital laboratory services and diagnostics. Other highlights of Alexander Animal Hospital are the separate cat and dog waiting and exam rooms, as well as after-hours on-call emergency services.
Please take a look around our website and then give us a call at 410-777-8678 to set up an appointment. We're social! Follow us on Facebook, Twitter, and Pinterest for all the latest updates!