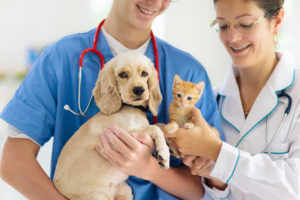 When it comes to effectively and efficiently caring for your pet, the vet is often the first place you go. In fact, in these trying times, pets may be experiencing heightened anxiety and stress. Ultimately, pets have a unique way of feeling what their owners are feeling. As 2020 has been a trash can of a year with heightened stress and anxiety among most, pets are likely to be dealing with the same issues as their owners. As a result, knowing how to handle not only your own mental health but that of your pets can be difficult when you don't even know where to begin. However, there are definitely ways pet owners can help their pets in these tough times. Here are some helpful tips to guide pet owners to help them deal with their pets who may be experiencing panic attacks. 
Anxiety Among Cats And Dogs
While there are many commonalities, anxiety will ultimately manifest itself slightly differently in different species. In fact, dogs and cats will experience heightened anxiety in slightly different ways. The reality is, dogs may exhibit excessive barking, trembling or hiding, yawning, having its tail between its legs, exhibit paw raises, pacing, pinned back ears, lip licking, excessive grooming, inappropriate urination, a loss of appetite, aggression, and potentially self-distraction. On the other hand, cats who experience anxiety will manifest that feeling in the following ways: aggression, running away or hiding, freezing, flattened ears, licking their nose, wide eyes with dilated pupils, shaking or trembling, anti-social behavior, and potentially excessive meowing. Beyond these, there are other factors to consider. However, all in all, if you notice something off with your pet, it may be the result of anxiety.
How To Help
When it comes to the solution to the anxiety of your pet, there is a myriad of ways to calm them down. In fact, when it comes to dogs, it's important to minimize their exposure to stressors. Additionally, dog owners could benefit from counter-conditioning their dogs or helping build their confidence overall. 
We Would Love the Opportunity to Care for Your Furry Friends!
Alexander Animal Hospital is a full-service animal hospital located in Severna Park, Maryland, serving the Severna Park, Pasadena, and Arnold Areas. Our goal is educating clients on the needs of their pets and understanding the importance of individualized veterinary care in order to strengthen the human-animal bond between owners and their pets.
We understand you have a choice when deciding on the care for your pets, and we strive to provide you with unparalleled services including wellness exams, vaccines, lost pet microchip ID, dental care, surgical services, digital radiography, and in-hospital laboratory services and diagnostics. Other highlights of Alexander Animal Hospital are the separate cat and dog waiting and exam rooms, as well as after-hours on-call emergency services.
Please take a look around our website and then give us a call at 410-777-8678 to set up an appointment. We're social! Follow us on Facebook, Twitter, and Pinterest for all the latest updates!