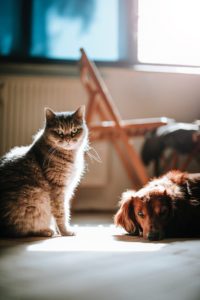 Every responsible person understands that bringing a pet into the home means there are going to be some challenges. One that we often hear about is house training; after all, we all want to keep our homes sparkling clean. Pets are going to take some time to adapt to your home, however, and learning how to house train them can be difficult for both parties. Don't worry, though. Once you arm yourself with the right pet care tips, house training should be a breeze.
Working With Cats
Cat owners have it good thanks to the fact that cats are pretty good at intuiting how to use their litter boxes. Sure, they may have an accident here or there, but generally, it's not a big challenge. However, if spraying continues, you may want to bring a vet on board. Under normal health and behavior conditions, it shouldn't be a problem.
Difficult Dogs
Even adult dogs can have issues with going to the bathroom in your home. Part of good pet care is being patience with an animal, and in the case of dogs, that means giving them positive reinforcement. Scolding or punishing pets just doesn't work, and at worse, it could even reinforce the bad behavior. You may be frustrated with your dog, but to solve the issue, be patient. Also, stick with realistic expectations.
Stay Consistent
Every pet is going to have different needs in terms of their house training. Nonetheless, whatever you end up doing, consistency is key. Pets want to please their owners, which is why both cats and dogs are receptive to praise and will repeat behaviors if consistently shown that they're doing something right.
Ease Yourself Into It
Remember that this whole process is part of the larger category that is pet care. You're going to be adjusting to plenty of other new things with your pet as well, so it's important that you take baby steps to get to where you need to be. Dogs can be pretty obvious when they need to go to the bathroom and, if necessary, puppy pads can be good training wheels until they build up confidence. 
We Would Love the Opportunity to Care for Your Furry Friends!
Alexander Animal Hospital is a full-service animal hospital located in Severna Park, Maryland, serving the Severna Park, Pasadena, and Arnold Areas. Our goal is educating clients on the needs of their pets and understanding the importance of individualized veterinary care in order to strengthen the human-animal bond between owners and their pets.
We understand you have a choice when deciding on the care for your pets, and we strive to provide you with unparalleled services including wellness exams, vaccines, lost pet microchip ID, dental care, surgical services, digital radiography, and in-hospital laboratory services and diagnostics. Other highlights of Alexander Animal Hospital are the separate cat and dog waiting and exam rooms, as well as after-hours on-call emergency services.
Please take a look around our website and then give us a call at 410-777-8678 to set up an appointment. We're social! Follow us on Facebook, Twitter, and Pinterest for all the latest updates!