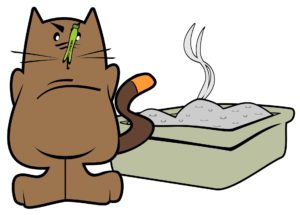 When it comes to your cat's litter box, there is nothing more important than proper cleaning and sanitization methods. In fact, these days, keeping odor at bay when people are stuck inside more frequently becomes increasingly important. Here are the best tips and tricks for proper cleaning and sanitizing of your cat's litter box. 
Using Your Cat's Favorite Litter
Ultimately, cats have their own specific preference. In fact, when it comes to litter, they will definitely like one over another. This means a favorite type of litter should always be the one you use when cleaning and sanitizing your cat's litter box. Ultimately, most cats tend to prefer small loose granules when it comes to their litter. As a result, being mindful of the type of litter you are purchasing can make all the difference for getting your cat's litter box to be optimally clean as well as properly sanitized. 
Frequently Scooping The Litter Box
One of the first things cat owners will realize is the importance of frequent scooping of their cat's litter box. In fact, not doing so will lead to extreme and pungent odors — that will definitely linger and be difficult to get rid of once they've settled into your home — including your furniture. Instead, cat owners should always make sure they are frequently scooping their cat's litter box and ridding it of any feces. 
How To Properly Clean A Cat's Litter Box
For newer cat owners, understanding the best practices to follow when cleaning their cat's litter box can be confusing. In fact, many are completely unaware that they need to wash the litter box itself. Doing so can ultimately help to properly sanitize the litter box itself and help keep any odors at bay. The reality is, cat owners need to maintain their cat's litter box regularly. This means that cats will have their litter box scrubbed and cleaned out routinely to keep it sanitized and clean throughout the day. 
We Would Love the Opportunity to Care for Your Furry Friends!
Alexander Animal Hospital is a full-service animal hospital located in Severna Park, Maryland, serving the Severna Park, Pasadena, and Arnold Areas. Our goal is educating clients on the needs of their pets and understanding the importance of individualized veterinary care in order to strengthen the human-animal bond between owners and their pets.
We understand you have a choice when deciding on the care for your pets, and we strive to provide you with unparalleled services including wellness exams, vaccines, lost pet microchip ID, dental care, surgical services, digital radiography, and in-hospital laboratory services and diagnostics. Other highlights of Alexander Animal Hospital are the separate cat and dog waiting and exam rooms, as well as after-hours on-call emergency services.
Please take a look around our website and then give us a call at 410-777-8678 to set up an appointment. We're social! Follow us on Facebook, Twitter, and Pinterest for all the latest updates!