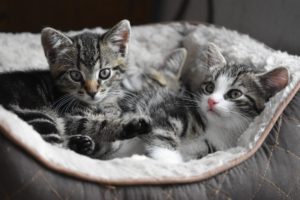 There's little doubt that all babies are cute. As much as we love our own human babies, our fur babies can matter just as much. Adopting or rescuing an adult cat is a very different prospect than welcoming an adorable little kitten into your home. That's why it is understandable that first-time cat-parents would have questions about how to properly look after their kittens. Well, if that's the case, then we have prepared a helpful guide for you! 
Avoid Treating Them Like Adult Cats 
First off, resist the urge to care for them the same way you would do with an older cat. If they are still under eight weeks old, then your kitty isn't ready to leave its litter quite yet. Any kitties in this age group, orphan or not, will need extra special care such as bottle-feeding and potty time. Contact an experienced veterinarian to see what else you can do in terms of cat care. From eight to eleven weeks old, kittens are first weaned off their mother's milk and can begin eating specially-formulated kitten kibble; supervise your kitten as they move around and play. Between two and four months of age, your kitten will be extra energetic especially when compared to a fully-grown cat. They'll need multiple meals a day, which you will need to add plenty of protein to every time! From four to six months old, your kitten is beginning to enter its own form of puberty – the first stages of adolescence. This is when you might want to investigate procedures such as spaying and neutering.   
Encourage Good Behavior and Focus on Socialization 
You might have heard of the principle "nature vs. nurture" in terms of human development and psychology – well, it also applies to the pets that join your household. Be sure to encourage your kitten's good behavior and discourage naughtiness. At the same time, another key part of cat care is socialization. Even when you are responsible for fostering a younger cat, you must still teach them how to interact with people and other animals safely for all parties involved.
Immediately Prioritize Preventative Care
We have one last piece of advice about cat care for you: be sure to make prompt preventative care a priority. Schedule appointments right away even before there are any visible signs of something being wrong. Learn more about fleas, parasites, and heartworm. Finally, educate yourself about the vaccines your kitten will need!  
We Would Love the Opportunity to Care for Your Furry Friends!
Alexander Animal Hospital is a full-service animal hospital located in Severna Park, Maryland, serving the Severna Park, Pasadena, and Arnold Areas. Our goal is educating clients on the needs of their pets and understanding the importance of individualized veterinary care in order to strengthen the human-animal bond between owners and their pets.
We understand you have a choice when deciding on the care for your pets, and we strive to provide you with unparalleled services including wellness exams, vaccines, lost pet microchip ID, dental care, surgical services, digital radiography, and in-hospital laboratory services and diagnostics. Other highlights of Alexander Animal Hospital are the separate cat and dog waiting and exam rooms, as well as after-hours on-call emergency services.
Please take a look around our website and then give us a call at 410-777-8678 to set up an appointment. We're social! Follow us on Facebook, Twitter, and Pinterest for all the latest updates!