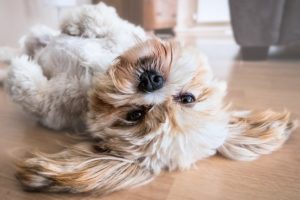 Christmas is upon us. Whether or not you celebrate the holiday on the Eve or on Christmas Day itself, one of the most important parts of the holiday is the food. Food is typically the centerpiece of any society's holiday celebrations. Your pets will probably cry for some scraps or even demand to lick your plate or bowl after you are done. While this may be part of your normal routine, exercise extra caution during your feasts. Here are some examples of common holiday foods that you shouldn't allow your dogs to ingest.
Alcohol 
Whatever you want to call it, alcohol is another popular element of holiday parties. Even if your gathering this year is small or totally nonexistent, you will probably want to mark the occasion with some brews or liquor – as long as you don't let your dogs drink any! Respiratory distress, tremors, coma, and even death can come as a result! 
Caffeine 
It can be hard to stay awake these days – not enough sleep and too much stress will take their toll. Believe it or not, caffeine is technically a drug; it's a stimulant! As such, you shouldn't let your dogs have any. So that means that coffee, tea, and chocolate are all ruled out as well. 
Candy 
Even if you are a person who does not enjoy sweets, the popularity of candy is undeniable. Sugar isn't the best, but in small doses, your dogs should be okay. The real scary thing about letting your doggies have some candy is the artificial sweetener known as xylitol. It could lead to liver failure, which is just as bad as it sounds. 
Chocolate 
So now we come to the biggest no-no for your canine friends: chocolate. Yes, chocolate is bad for dogs, just like grapes and nuts. Always keep an eye on your dogs, especially for curious and rambunctious puppies who are always ready to snack on something. Theobromine is the toxic element here, which can lead to seizures and death. 
We Would Love the Opportunity to Care for Your Furry Friends!
Alexander Animal Hospital is a full-service animal hospital located in Severna Park, Maryland, serving the Severna Park, Pasadena, and Arnold Areas. Our goal is educating clients on the needs of their pets and understanding the importance of individualized veterinary care in order to strengthen the human-animal bond between owners and their pets.
We understand you have a choice when deciding on the care for your pets, and we strive to provide you with unparalleled services including wellness exams, vaccines, lost pet microchip ID, dental care, surgical services, digital radiography, and in-hospital laboratory services and diagnostics. Other highlights of Alexander Animal Hospital are the separate cat and dog waiting and exam rooms, as well as after-hours on-call emergency services.
Please take a look around our website and then give us a call at 410-777-8678 to set up an appointment. We're social! Follow us on Facebook, Twitter, and Pinterest for all the latest updates!