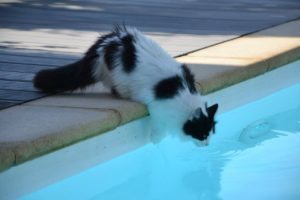 When it comes to cats, swimming pools might not be the best place for them. However, teaching them to swim successfully is totally possible. In fact, there are some easy and effective ways to encourage your precious kitty to learn how to swim. Here are some of the best ways you can help your kitty learn how to swim effectively and efficiently.
Cats And Swimming Pools
Fortunately for cat owners, cats are adept at swimming. In fact, it's simply a myth that kitty cats hate water and can't swim. The reality is, domestic cats can be taught how to swim. It may take some patience on the part of the cat owner but doing so can help ease the stress associated with being a cat and swimming pool owner. 
The Fundamentals Of Effectively Teaching Your Cat To Swim
First, you will definitely want to introduce your cat to water in a friendly, safe way. In fact, bringing your cat outside to the pool with you should ideally be your very first step. Once your cat has finally been introduced to the water, you will definitely want to make sure they are comfortable and okay with the water itself. If so, then you'll want to carry them around in your arms for a bit so they can assimilate to the water for a little bit before diving in. Next, as soon as you feel like they are safe and comfortable walking about the swimming pool in the water, then try sitting them down in the water itself while you are still holding them. Fortunately, your cat will most likely begin to paddle before their paws even hit the water. Then, let them go and watch them swim like a natural. 
Bottom Line
At the end of the day, there is nothing worse than worrying constantly about your cat falling in your swimming pool. In fact, teaching your cat how to swim can alleviate that perry and provide you with some much-needed peace of mind.
We Would Love the Opportunity to Care for Your Furry Friends!
Alexander Animal Hospital is a full-service animal hospital located in Severna Park, Maryland, serving the Severna Park, Pasadena, and Arnold Areas. Our goal is educating clients on the needs of their pets and understanding the importance of individualized veterinary care in order to strengthen the human-animal bond between owners and their pets.
We understand you have a choice when deciding on the care for your pets, and we strive to provide you with unparalleled services including wellness exams, vaccines, lost pet microchip ID, dental care, surgical services, digital radiography, and in-hospital laboratory services and diagnostics. Other highlights of Alexander Animal Hospital are the separate cat and dog waiting and exam rooms, as well as after-hours on-call emergency services.
Please take a look around our website and then give us a call at 410-777-8678 to set up an appointment. We're social! Follow us on Facebook, Twitter, and Pinterest for all the latest updates!