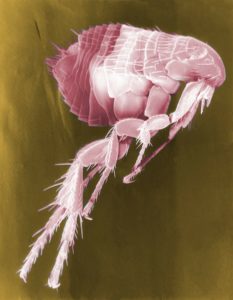 All pet owners will understand the annoyance and worry associated with fleas and ticks. In fact, winter is typically a beloved time of year for many pet owners who look forward to not having to worry about potential fleas and ticks burrowing their way into their fur babies. However, that isn't actually reality. The truth is that winter doesn't necessarily erase the worry or potential for your pets to come in contact with fleas and ticks. That being said, there is a myriad of prevention measures pet owners can take to ensure their furry friends are protected from those pesky bugs all year round — no matter the season. 
Year-Round Heartworm Treatment Is A Must
All pet owners should equip their little furry rascals with a heartworm medicine that works throughout the year. In fact, there are so many different options out there that many pets actually enjoy taking. Some are made in chewable forms that taste like their favorite treats or other pet parents have purchased little pill buddies which are a pill pouch that tastes like their furry friends' most delicious meal and sneaks the preventative medicine in there for their furry friend to devour without fuss. 
Flea And Tick Preventatives
No matter what the weather is like or what season we are in, it is important to equip your pets with the proper preventative medicine to keep them healthy and safe throughout the year. In fact, one of the best ways to avoid any sort of parasitic infection in your little furry friend is to invest in a proper flea and tick medicine to prevent the onset of these parasites before they can even strike your pet. It's always crucial to remember that while fleas, ticks, and mosquitos may simply look like a mere annoyance, they can actually cause some serious issues when not treated early enough or properly. These issues with your pet can ultimately lead to severe health problems — which no pet parent ever wants to think about. That is why protecting your pets as soon as you can — with preventative medicine — is the best route to take. You'll alleviate your worry and concern and give yourself some peace of mind as well, knowing your pet is protected against any of the harmful pests around.
We Would Love the Opportunity to Care for Your Furry Friends!
Alexander Animal Hospital is a full-service animal hospital located in Severna Park, Maryland, serving the Severna Park, Pasadena, and Arnold Areas. Our goal is educating clients on the needs of their pets and understanding the importance of individualized veterinary care in order to strengthen the human-animal bond between owners and their pets.
We understand you have a choice when deciding on the care for your pets, and we strive to provide you with unparalleled services including wellness exams, vaccines, lost pet microchip ID, dental care, surgical services, digital radiography, and in-hospital laboratory services and diagnostics. Other highlights of Alexander Animal Hospital are the separate cat and dog waiting and exam rooms, as well as after-hours on-call emergency services.
Please take a look around our website and then give us a call at 410-777-8678 to set up an appointment.
We're social! Follow us on Facebook, Twitter, and Pinterest for all the latest updates!