Dogs and cats don't always have the best relationship with one another. Although some pairs could bond into best buddies, others will simply mix the same way as orange juice and toothpaste – it's just a sticky situation that doesn't leave anyone feeling better. Maybe a peace offering will help if it is catnip. The question remains, though, how does catnip affect your dog?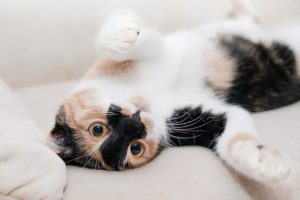 It's a Calming Agent
Catnip has a way of making your cat hyper. It's one of those activities pet parents playfully call "zoomies" when both your cat and dog race around the house for no obvious reason other than because they feel like it. Unlike your kitty, though, the catnip works as a sedative for dogs. In other words, it's a calming agent. 
Helps Potty Time Happen
If your puppy has had bathroom accidents lately, it's not their fault. The little ones are still adjusting to being housebroken. Still, an unexpected benefit of catnip is that it can help your pup finish potty time, either on their training mats or on the grass in the backyard.
Catnip Relieves Intestinal Comfort
Intestinal discomfort is no fun. At least people can take different medicines that ease the pain. You can't exactly give those to your canine companion, though. If you've run out of the chewable or tablet-based solutions for acid reflux and bloating, then maybe you could do with a bit of catnip yourself! It helps release captured gas and helps reduce the amount of flatulence that your dog breaks wind with; oil and tea solutions can also help soothe an upset tummy and prevent vomiting.
Surprisingly Heals Wounds Faster
One of the most surprising side-effects of catnip on dogs is that it speeds up the healing process. Did you know that a cat's purr vibrates at a specific frequency? This wavelength helps calm their person down and encourage endorphin bursts, which helps pick up your mood. Catnip contains a chemical compound called thymol, which works as an antiseptic. Basically, it can help fight off bacteria!
We Would Love the Opportunity to Care for Your Furry Friends!
Alexander Animal Hospital is a full-service animal hospital located in Severna Park, Maryland, serving the Severna Park, Pasadena, and Arnold Areas. Our goal is educating clients on the needs of their pets and understanding the importance of individualized veterinary care in order to strengthen the human-animal bond between owners and their pets.
We understand you have a choice when deciding on the care for your pets, and we strive to provide you with unparalleled services including wellness exams, vaccines, lost pet microchip ID, dental care, surgical services, digital radiography, and in-hospital laboratory services and diagnostics. Other highlights of Alexander Animal Hospital are the separate cat and dog waiting and exam rooms, as well as after-hours on-call emergency services.
Please take a look around our website and then give us a call at 410-777-8678 to set up an appointment.
We're social! Follow us on Facebook, Twitter, and Pinterest for all the latest updates!