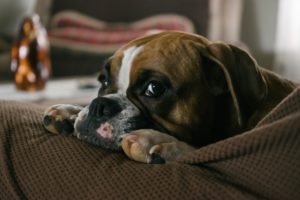 Dogs are amazing companions. They're loyal and funny, and we love them through and through. But they sometimes do some strange things. Occasionally that strangeness comes in the form of "Oh my gosh eww! what did you just eat?" But more often, it is in the form of "What is that smell?" This is especially true of the weird Fritos odor that dog paws sometimes have. No, you're not imagining it. Dog paws sometimes smell like corn chips. Here's why.

What Causes Frito Paw?
In a word, the smell comes from bacteria. While it's probably the last thing you want to hear, dog paws are a playground for bacteria. Most of this is normal and natural (and remember that some good bacteria is vital). After all, your pooch walks around on those pads all day. For there not to be germs and bacteria, it would be like there being nothing on the bottoms of your old sneakers – impossible. Along with the bacteria that your dog picks up walking around, they also lick those paws, so there's saliva on the pads and the fur between them. Proteus or pseudomonas bacteria is the likely culprit for the yeasty, corn chip smell.

When Should You Worry?
Since the Frito smell is fairly harmless, is their paw odor you should worry about? Yes. If the odor gets really foul, if there is discharge, or if there is visible redness, get your pup's paws checked. This could be a sign of bacterial overgrowth, or it could be the sign of an infection. There are lots of ways that your pup's pads can get injured without you noticing, such as an abrasion on the pad, something stuck between the pads, or a toenail issue. Take time to check them out regularly as part of your pet care routine, and always rinse or wash them after hiking. If your pup is prone to pad injury, you could also consider doggy booties for when he goes outside.
We Would Love the Opportunity to Care for Your Furry Friends!
Alexander Animal Hospital is a full-service animal hospital located in Severna Park, Maryland, serving the Severna Park, Pasadena, and Arnold Areas. Our goal is educating clients on the needs of their pets and understanding the importance of individualized veterinary care in order to strengthen the human-animal bond between owners and their pets.
We understand you have a choice when deciding on the care for your pets, and we strive to provide you with unparalleled services including wellness exams, vaccines, lost pet microchip ID, dental care, surgical services, digital radiography, and in-hospital laboratory services and diagnostics. Other highlights of Alexander Animal Hospital are the separate cat and dog waiting and exam rooms, as well as after-hours on-call emergency services.
Please take a look around our website and then give us a call at 410-777-8678 to set up an appointment.We're social! Follow us on Facebook, Twitter, and Pinterest for all the latest updates!