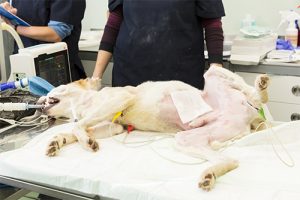 For most people, going to the hospital is a majorly stressful situation. Even if they aren't bound for the emergency room, there's plenty of anxiety to go around. Our cute and cuddly pets can often help us relax and recenter amidst some sort of emotional turmoil. But what happens when it's your pet that needs critical medical attention? Sometimes, the only way to save them is to arrange for pet surgery. 
The Standard Spay + Neuter 
We've spoken about the spay and neuter procedure before. This is probably the one that you are the most familiar with when it comes to pet surgery. That's because even non-pet parents have some idea of how spaying and neutering works. It's considered minor surgery, but that doesn't make it any less important. Spaying is the name of what female pets undergo, while neutering is the same concept for male pets. 
Dealing with Dental Problems 
Your pets probably have horrid breath. That's nothing out of the ordinary because human breath can get pretty stinky too. At some point, though, this type of pet surgery will probably become necessary. Tooth decay and gum disease can quickly take root, so to speak. As such, the vet needs to take urgent action to save the teeth, gum tissue, and jawbones.
Addressing Hip Dysplasia 
Hip dysplasia sounds scary, and it is somewhat. This disease manifests as a degenerative joint condition. It most often affects dogs. Although it is reversible, such an outcome calls for multiple surgical procedures. If left untreated, your pet will develop pain and stiffness in its back legs. This condition leads to odd limping or hopping when moving around, and it could also affect potty time. 
Performing Internal Surgery Procedures 
Veterinarians are called upon to be animal surgeons as well. Without them, successful pet surgery attempts wouldn't be possible. Housepets are curious creatures by nature. They'll eat things they aren't supposed to, whether those things are edible or not. Internal surgeries can extract bones, batteries, sticks, and tennis balls. It's also an efficient method for eliminating cancerous tumors and stubborn gallstones. 
We Would Love the Opportunity to Care for Your Furry Friends!
Alexander Animal Hospital is a full-service animal hospital located in Severna Park, Maryland, serving the Severna Park, Pasadena, and Arnold areas. Our goal is to educate clients on their pets' needs and understand the importance of individualized veterinary care to strengthen the human-animal bond between owners and their pets.
We understand you have a choice when deciding on the care for your pets. Therefore, we strive to provide you with unparalleled services, including wellness exams, vaccines, lost pet microchip ID, dental care, surgical services, digital radiography, and in-hospital laboratory services and diagnostics. Other highlights of Alexander Animal Hospital are the separate cat and dog waiting and exam rooms and after-hours on-call emergency services.
Please take a look around our website and then give us a call at 410-777-8678 to set up an appointment. We're social! Follow us on Facebook, Twitter, and Pinterest for all the latest updates!