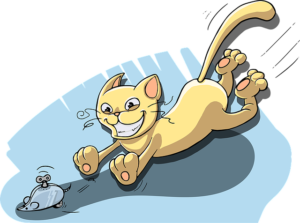 There's little doubt that cats are adorable. That said, they can also be furry little weirdos. The biggest question on our minds this week: why do cats act the way they do? No matter how old they are or what breed they belong to, every kitty exhibits several strange behaviors and habits. These tendencies seem odd to us – but then again, to them, we're the oddballs.
They'll Knock Things Over
First of all, expect your cat companion to find things to hit. They'll knock something over and pretend like such an incident was a mere accident – or that it was supposed to happen all along. Even though they are common house pets, cats still do have that killer instinct that comes with being a natural predator. Still, since they are only pint-sized tigers, the most they can do is to push things around and hit them until something breaks. Just let them do it, and everything will be fine. Well, for the most part, at least. 
Little Headbutts of Love 
There's a certain trope in multiple forms of media. In this trope, known as the "headbutt of love," two characters press their foreheads together in a show of deep affection. Well, cats like to do something similar. In this case, they will bonk you repeatedly, and sometimes quite insistently, with their little spherical heads. This form of affection is known as bunting. It serves two purposes: to show they care about you and that you belong to them. That way, other animals (particularly any other cats that you know) should back off! 
Camping Out in Random Boxes 
There's something oddly appropriate about cats and their universal appreciation for a good box. Cardboard boxes are going to be their preferred lair, but even if you just use some duct tape and mark out a rough rectangle on the floor, they'll be able to plop down there and watch the world go by around them. Suppose you have a wooden crate that functions as a car seat for your dogs – well, if it isn't in use, then your cat will do something with it – like claim it for their own!
We Would Love the Opportunity to Care for Your Furry Friends!
Alexander Animal Hospital is a full-service animal hospital located in Severna Park, Maryland, serving the Severna Park, Pasadena, and Arnold areas. Our goal is to educate clients on their pets' needs and understand the importance of individualized veterinary care to strengthen the human-animal bond between owners and their pets.
We understand you have a choice when deciding on the care for your pets. Therefore, we strive to provide you with unparalleled services, including wellness exams, vaccines, lost pet microchip ID, dental care, surgical services, digital radiography, and in-hospital laboratory services and diagnostics. Other highlights of Alexander Animal Hospital are the separate cat and dog waiting and exam rooms and after-hours on-call emergency services.
Please take a look around our website and then give us a call at 410-777-8678 to set up an appointment. We're social! Follow us on Facebook, Twitter, and Pinterest for all the latest updates!