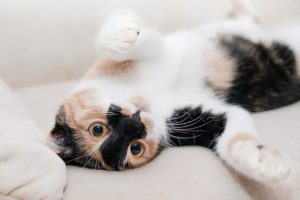 As we've said before, cats are puzzling little creatures. Oh sure, they try to be mysterious and enigmatic. But they are large apex predators stuck in a body that is roughly the size of a stuffed animal. As such, you might be confused about why they do what they do. We now present to you part two in a two-part series on how to recognize and understand your feline friend's strange behavior patterns.    
Finding Stuff to Chomp On (And It Isn't Food)
It's probably a good idea to get your cat a cat tower. This gives them a little castle. It serves as a hideaway from other pets (say, rambunctious puppies), and it'll reduce the chances that they'll destroy your other furniture. Beyond that, though, your cats like to show their teeth sometimes. They'll find things to gnaw on, even if their targets aren't supposed to be food.  These tendencies are most likely due to anxiety, boredom, or sickness. This habit also surfaces when your cat is teething and getting used to having pointy little chompers in their tiny mouths. They're also prone to eating houseplants. Plants, grass, and even vegetable leaves are fair game to them. 
Leaving You Some Unpleasant Surprises
You'll think that it's disgusting, but this action is another way that Kitty tells you they love you. From the dog's point of view, the humans in their lives are giant immortal creatures. In the eyes of your cat, though, you are just a big furless dummy who cannot forage for its own food. One of the so-called "presents" your purring pals are likely to drop by your desk includes dead birds, dead mice, and even dead spiders. While your indoor cat-comrade might occasionally yowl to be let out into the backyard, they can catch parasites, ticks, and fleas this way!
Casually Makin' Some Biscuits
Is your kitten an aspiring baker? They might be a prodigy, but you won't always feel so proud of them when they dig their front paws into your lap while you're trying to watch Netflix and have a snack. This instinct of "making biscuits" comes from when your kitten was a newborn and needed milk from its mama. 
We Would Love the Opportunity to Care for Your Furry Friends!
Alexander Animal Hospital is a full-service animal hospital located in Severna Park, Maryland, serving the Severna Park, Pasadena, and Arnold areas. Our goal is to educate clients on their pets' needs and understand the importance of individualized veterinary care to strengthen the human-animal bond between owners and their pets.
We understand you have a choice when deciding on the care for your pets. Therefore, we strive to provide you with unparalleled services, including wellness exams, vaccines, lost pet microchip ID, dental care, surgical services, digital radiography, and in-hospital laboratory services and diagnostics. Other highlights of Alexander Animal Hospital are the separate cat and dog waiting and exam rooms and after-hours on-call emergency services.
Please take a look around our website and then give us a call at 410-777-8678 to set up an appointment. We're social! Follow us on Facebook, Twitter, and Pinterest for all the latest updates!