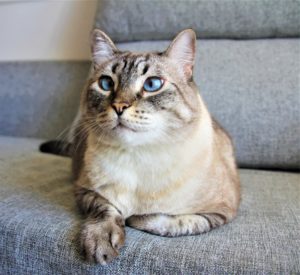 Cats are entertaining creatures. They love to nap in the sunlight, and for some reason, are comforted by boxes. Sometimes, they don't even need a cardboard box to crouch in. You could just put down four strips of tape and make a rectangle on the floor, and they'd be happy. When you add catnip to the mix, the entertainment factor increases, too. So, what effects will this substance have on your feline friends? Here is the truth about that matter.
First of All, What Is It? 
Catnip has a very similar-sounding scientific name. It's called nepeta cataria, and it actually belongs to the mint family. It flourishes in the environment provided by North America; you'll notice this plant is as light as a feather. Its foliage is scattered with lavender flowers as well. As hard as it is to believe, humans can consume it too! Since it can be made into a tea, you can drink it to relieve coughs or use it to mix up some homemade bug sprays with natural ingredients.
How Does It Affect Cats?
So your next question probably has to do with the apparent "buzz" that your cat gets after some exposure. Cats have an extra scent detector hidden inside the roof of their mouths – this organ is known as the vomeronasal gland. Catnip oil stimulates the sex hormones all cats experience. This attribute helps to relax your kitty, relieving anxiety and making them more playful and silly.
Can It Work for Every Cat?
Unfortunately, some cats are immune to catnip. In other words, it won't work for them. Only about 60% percent of cats will react when given a dose. Apparently, it has to do with genetics.
How Long Does It Last?
After your cat sniffs the catnip, they'll be feeling extra wacky for the next ten minutes or so. At this point, they'll probably try to eat the dried powder or nibble on the leaves of the kind you've decided to home grow. Then there'll be a thirty-minute cooldown period before the nip activates again.
Should My Kitten Have Some?
Feel free to give your kitten some of this special plant; it won't hurt them. Keep in mind, though, that they might not have the same reactions as grown-up or mature cats will. Their sensitivity to the material becomes more noticeable once they are six months old and continues to be this potent until they turn 1.
We Would Love the Opportunity to Care for Your Furry Friends!
Alexander Animal Hospital is a full-service animal hospital located in Severna Park, Maryland, serving the Severna Park, Pasadena, and Arnold areas. Our goal is to educate clients on their pets' needs and understand the importance of individualized veterinary care to strengthen the human-animal bond between owners and their pets.
We understand you have a choice when deciding on the care for your pets. We strive to provide you with unparalleled services, including wellness exams, vaccines, lost pet microchip ID, dental care, surgical services, digital radiography, and in-hospital laboratory services and diagnostics. Other highlights of Alexander Animal Hospital are the separate cat and dog waiting and exam rooms and after-hours on-call emergency services.
Please take a look around our website and then give us a call at 410-777-8678 to set up an appointment. We're social! Follow us on Facebook, Twitter, and Pinterest for all the latest updates!