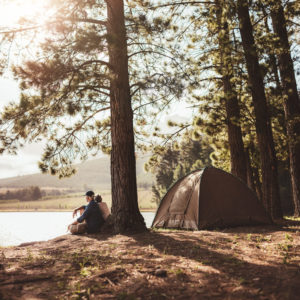 Springtime is here again! Pretty soon, though, it'll transition into summer. That usually means it's a good time to go on a camping trip. Even if your dog is more of a passive type and isn't normally aggressive towards strangers, you will want to do whatever you can to protect them. Generally speaking, many dog ownership dilemmas are easy to resolve as long as you take the proper precautions! 
Consider How Healthy They Are 
Before you go anywhere, assess how healthy your canine companion is. Senior dogs are going to be more delicate than their excitable puppy counterparts. Confirm that everything is shipshape by taking them for their vet checkup. Then you can be sure that all of their shots and vaccinations are caught up. Injuries and illnesses will slow them down and leave them more vulnerable to wild animals or mean humans. Flea and tick medications are a good idea, too. 
Pick a Pup-Friendly Campsite
The Internet is a quick and easy way to do some cursory research on pet-friendly campsites. Since dogs are more willing to be leashed, it'll be easier to keep them close by than a curious and mischievous housecat. Shorter day trips are more fun for shy dogs or ones who aren't socialized very well. However, even friendly doggies should be introduced to their new environment carefully so they don't get spooked and run away.  
Let Them Acclimate to The Environment 
Strange sights, smells, and sounds can be overwhelming. These sensory inputs will more than likely stoke your dog's curiosity and urge to explore. With that in mind, let them get used to their new surroundings. Keep them leashed so that they don't get lost while wandering around – or decide to go chase other dogs that bark at them. 
Keep Track of Their Kibble 
Dogs can be territorial and food-aggressive. Keep a close eye on them while they eat; they might not appreciate other creatures approaching their bowl. Follow the same advice regarding treats – put them away whenever your doggy isn't actively enjoying them. If you don't, you might catch the attention of animals who live in the woods. 
We Would Love the Opportunity to Care for Your Furry Friends!
Alexander Animal Hospital is a full-service animal hospital located in Severna Park, Maryland, serving the Severna Park, Pasadena, and Arnold areas. Our goal is to educate clients on their pets' needs and understand the importance of individualized veterinary care to strengthen the human-animal bond between owners and their pets.
We understand you have a choice when deciding on the care for your pets. We strive to provide you with unparalleled services, including wellness exams, vaccines, lost pet microchip ID, dental care, surgical services, digital radiography, and in-hospital laboratory services and diagnostics. Other highlights of Alexander Animal Hospital are the separate cat and dog waiting and exam rooms and after-hours on-call emergency services.
Please take a look around our website and then give us a call at 410-777-8678 to set up an appointment. We're social! Follow us on Facebook, Twitter, and Pinterest for all the latest updates!