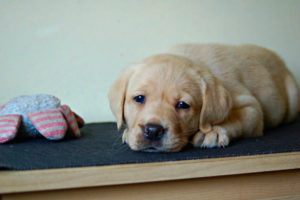 Everyone can throw up. Vomit is never pleasant to deal with – whether it comes from our human babies or our furry ones. The real question is this: do your dogs vomit on the grass outside during their walks, or are they prone to do it inside the house as well? How can you tell if they have an upset tummy or a more serious problem that requires emergency attention? Here is more information, in case you should need it right away.
What Does Regurgitation Mean? 
You know how cats tend to cough up hairballs that look like puke? Dogs can do something similar. In their case, it is called regurgitation. Yes, we know that it's a term applied to humans (either literally or figuratively) but work with us here. What your canine spews up is food they couldn't digest, water, and some saliva. It looks cylindrical and typically ejects straight out of the esophagus.  
What Can Cause Vomiting?
Now let's talk about the causes of actual canine vomiting. It can happen because they've eaten something they shouldn't – namely, garbage, fatty foods, and table scraps. Other common triggers include swallowed bones, rocks, hair, and rubber balls. 
Sometimes, the culprits could be something less innocuous – nasty parasites like roundworms, viruses, and diseases can be the underlying issue. Poisonous substances such as rodent repellent, antifreeze,  and acetaminophen can all harm your puppies. They can also suffer from motion sickness – and occasionally just because they are ecstatic to see you or anxious because of thunderstorms in your area! 
When Should You Be Worried? 
When your dog eats too much, or too fast, then it can cause some unpleasant consequences. Throat conditions such as dilated esophaguses prevent food from going into the stomach; at this point, there's no way to go but up. The breed of the dog in question also matters!
Odd changes in behavior, like sleeping too much, can be a warning sign. Other causes for concern include dried blood in what they upchuck, and if the vomiting doesn't seem to stop.
We Would Love the Opportunity to Care for Your Furry Friends!
Alexander Animal Hospital is a full-service animal hospital located in Severna Park, Maryland, serving the Severna Park, Pasadena, and Arnold areas. Our goal is to educate clients on their pets' needs and understand the importance of individualized veterinary care to strengthen the human-animal bond between owners and their pets.
We understand you have a choice when deciding on the care for your pets. We strive to provide you with unparalleled services, including wellness exams, vaccines, lost pet microchip ID, dental care, surgical services, digital radiography, and in-hospital laboratory services and diagnostics. Other highlights of Alexander Animal Hospital are the separate cat and dog waiting and exam rooms and after-hours on-call emergency services.
Please take a look around our website and then give us a call at 410-777-8678 to set up an appointment. We're social! Follow us on Facebook, Twitter, and Pinterest for all the latest updates!