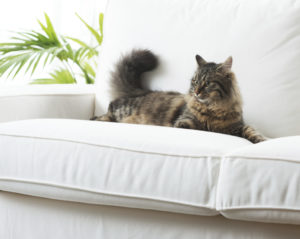 Pet parents are probably used to this situation by now: when your dog sneaks some cat food. Even though a few small morsels every now and then isn't a bad thing, at some point, it could get dangerous. That's because cat food and dog food follow very different formulas. So how should you react when your cat gets a little too curious and helps themselves to some of your dog's food? We know that you've got this question, and few others, on your mind. Let us answer them for you!
Can My Cat Eat It? 
Let's start with the most basic and pressing question on our list: can my cat even eat dog food? The short answer is yes. Allow us to explain since there are some conditions at play here. Only let your cat eat your dog's food in an emergency. If it's not an emergency, limit their exposure because they'll be fine in the short term. The food that your canine pal gobbles down doesn't have the adequate nutrition content to help your kitty thrive.   
What Does a Feline Diet Entail? 
Now let's discuss what a feline diet is supposed to look like. All cats need to have plenty of proteins, fats, and taurine as part of their daily intake. The protein can come from meat or fish; these foods also yield amino acids like taurine and arginine. Meanwhile, fatty acids, vitamins, minerals, and water are all necessary too. Make protein the main component of your meowing companion's mealtime – veterinarians recommend about 35-45% worth of the consumed calories.
How is Cat Food Made?
You might have seen taurine listed as an ingredient on the can of your favorite energy drink. In that case, you'd probably start wondering why your cat would even need the energy boost. It turns out that taurine helps regulate feline heart functions, improve their vision, and aid in reproduction. Healthy cat food brands might be more expensive, but they're worth it since they'll keep your kitten in better shape.  Be on the lookout for natural, whole-food ingredients, high-quality animal proteins; animal-based fats; and digestible carbs and fiber. Most importantly, avoid the food blends that include by-products, fillers, and artificial additives. 
We Would Love the Opportunity to Care for Your Furry Friends!
Alexander Animal Hospital is a full-service animal hospital located in Severna Park, Maryland, serving the Severna Park, Pasadena, and Arnold areas. Our goal is to educate clients on their pets' needs and understand the importance of individualized veterinary care to strengthen the human-animal bond between owners and their pets.
We understand you have a choice when deciding on the care for your pets. We strive to provide you with unparalleled services, including wellness exams, vaccines, lost pet microchip ID, dental care, surgical services, digital radiography, and in-hospital laboratory services and diagnostics. Other highlights of Alexander Animal Hospital are the separate cat and dog waiting and exam rooms and after-hours on-call emergency services.
Please take a look around our website and then give us a call at 410-777-8678 to set up an appointment. We're social! Follow us on Facebook, Twitter, and Pinterest for all the latest updates!