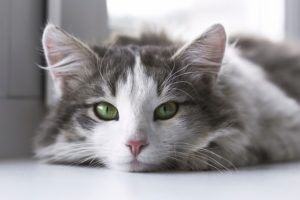 Our cats are part of our families. We love them and want to make sure they are happy and healthy. When they aren't happy, it's not always super easy to tell. Just like humans, there are any number of things that can cause your cat to feel stressed out. Also like us, cats have some tell-tale signs that let us know when they are feeling stressed. Here are some of those signs.
Ignoring the Litter Box
It takes very little effort to train a kitten to use a litter box. Once they start using it, that's it. If a cat goes to the bathroom anywhere besides their litter box, it probably means they are trying to send a message. Before you become concerned, try scooping it or changing the litter. Sometimes a cat just wants a clean box. If the problem persists, it could be a sign that they are feeling stressed.
Sleeping More
Did you know that your cat could be sleeping for 20 hours a day and still be considered within the normal, healthy range? Cats tend to sleep a lot, it's just what they do. With that said, it's important to note your cat's specific sleeping patterns because every cat is different. If your cat is typically active in the evenings and you find them suddenly sleeping during that time instead, that could be cause for concern.
Eating Less
Every cat is different, but there is one thing that is pretty much the same across the board: food. Cats love to eat. You know your cat's eating habits better than anyone. You know if they scarf every bit of kibble down as soon as it hits the bowl or if they prefer to grab a few nibbles throughout the day. If you notice any kind of decrease in your cat's appetite or changes in their interest in food, they could be stressed out.
We Would Love the Opportunity to Care for Your Furry Friends!
Alexander Animal Hospital is a full-service animal hospital located in Severna Park, Maryland, serving the Severna Park, Pasadena, and Arnold Areas. Our goal is educating clients on the needs of their pets and understanding the importance of individualized veterinary care in order to strengthen the human-animal bond between owners and their pets.
We understand you have a choice when deciding on the care for your pets, and we strive to provide you with unparalleled services including wellness exams, vaccines, lost pet microchip ID, dental care, surgical services, digital radiography, and in-hospital laboratory services and diagnostics. Other highlights of Alexander Animal Hospital are the separate cat and dog waiting and exam rooms, as well as after-hours on-call emergency services.
Please take a look around our website and then give us a call at 410-777-8678 to set up an appointment.
We're social! Follow us on Facebook, Twitter, and Pinterest for all the latest updates!