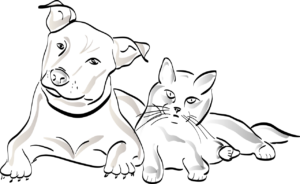 Every so often, people need to have ultrasound procedures performed. Your pets are no different. If something is wrong with your kitty or puppy, you will want to know as soon as possible. What should you know about pets and making sure they get the proper care that they need? Let's find out together!
The Procedure Itself
Let's start by looking at what happens during an ultrasound. Sound waves are used to look under the skin. This part of the process is the same for both humans and animals. It doesn't cause any pain and it is meant to be non-invasive. The machine emits waves which then return to the device. The speed of the return depends on the density of the tissue being examined. This way, the vet can determine if there is any organ damage or problems that aren't immediately evidenced by changes in potty routines, eating habits, or activity levels.
Reasons for an Ultrasound
So what are some of the reasons why an ultrasound might be necessary? One major health concern is pancreatitis which can affect your pets as much as it can affect people, too. If it isn't treated, then it can become far more serious. Ultrasounds can also find tumors that signal the growth or development of cancer. Liver disease, kidney stones, gallbladder infections, and inflamed prostate glands can all be detected through the use of ultrasound machines. As it is with many other medical or potential surgical procedures, the ultrasound can help find out anything that is wrong with your pets, no matter how old they are and what might be wrong with them. Your vet will be able to recommend what happens next, especially if the case is more complicated than it might seem on the surface.
We Would Love the Opportunity to Care for Your Furry Friends!
Alexander Animal Hospital is a full-service animal hospital located in Severna Park, Maryland, serving the Severna Park, Pasadena, and Arnold Areas. Our goal is educating clients on the needs of their pets and understanding the importance of individualized veterinary care in order to strengthen the human-animal bond between owners and their pets.
We understand you have a choice when deciding on the care for your pets, and we strive to provide you with unparalleled services including wellness exams, vaccines, lost pet microchip ID, dental care, surgical services, digital radiography, and in-hospital laboratory services and diagnostics. Other highlights of Alexander Animal Hospital are the separate cat and dog waiting and exam rooms, as well as after-hours on-call emergency services.
Please take a look around our website and then give us a call at 410-777-8678 to set up an appointment.
We're social! Follow us on Facebook, Twitter, and Pinterest for all the latest updates!